Print Out 7-Eleven Application
Download a printable 7-Eleven employment form.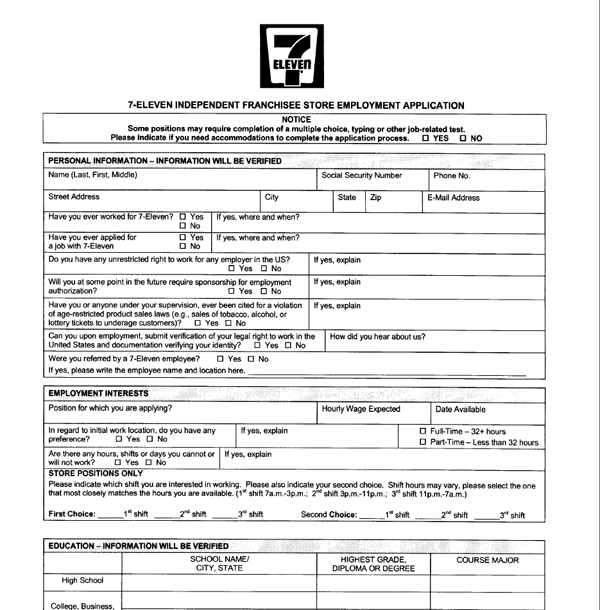 What Should I Do with This Form?
Those looking for a 7-Eleven job can download the PDF application above. Print the form out and complete it using the directions on this page. Then, deliver it in person to a local store. Candidates can also read about applying online at the company or find jobs nearby.
Why Apply at 7-Eleven?
7-Eleven is a convenience store with thousands of locations in the U.S. and Canada. The chain is open all day long and frequently hires. Most jobs include good pay rates and part-time or full-time hours. An application could be the start of a brand new entry-level career.
Filling Out the 7-Eleven Application
The 7-Eleven application is two pages and includes prompts regarding work experience, schooling, and interests. Make sure to have all materials, like a driver's license, ready before starting. Respond legibly in ink for the best results.
Personal Information
7-Eleven applications require a name, address, and phone number. The job hopeful must answer questions on legal work status and possible crime history here. The final prompt asks for details of any referrals.
Employment Interest
The next portion lets employers know what job seekers expect if hired. Desired position, location, hourly wages, and start date help managers decide if there are openings that fit. Listing availability is important for the hiring process as well.
Education
Here, applicants list educational training. Those who are currently attending a high school or university should note it on their applications. While college degrees are not necessary for most 7-Eleven jobs, any extra schoolwork is a plus.
Employment History
Job hopefuls need to provide a record of previous employment. The company requires names and contact info for all positions held. This section is also a place to mention military service. 7-Eleven supervisors will verify all data.
Signing and Submitting
After completing all parts, sign and date the bottom to indicate that the facts are accurate and current. Review the form one last time to ensure everything has a response. When finished, turn in the job application to a manager at any 7-Eleven.