About the Job-Applications.com Company
Who We Are
A few words from our President, Doug Crawford, SPHR, SHRM-SCP:

In The News

Doug Crawford, president of Job-Applications.com, was interviewed in the Canton Repository, for a story about employers struggling to fill jobs.
---

Doug Crawford, president of Job-Applications.com, was recently featured in the following interview with ABC News 5. He provided tips on how to write a resume and market yourself during the COVID-19 pandemic.
---

Job-applications.com survey featured in article about hourly wages.
---
What We Do
Job-Applications.com operates out of offices in Canton, OH. Since day one, our site has strived to provide the best employment assistance around. Job-Applications.com features information on 1,500 popular companies in major industries, such as fast food, retail, grocery stores, hotels, and restaurants.
We offer a comprehensive database of printable job application forms and links to online application pages. Users may find an application by searching for a specific company or browsing by industry. Each company featured on Job-Applications.com has a detailed biography, which includes company history, service offered, and common job opportunities. Job hunters may also read our articles on resume writing and how to perform in an interview.
Meet the team: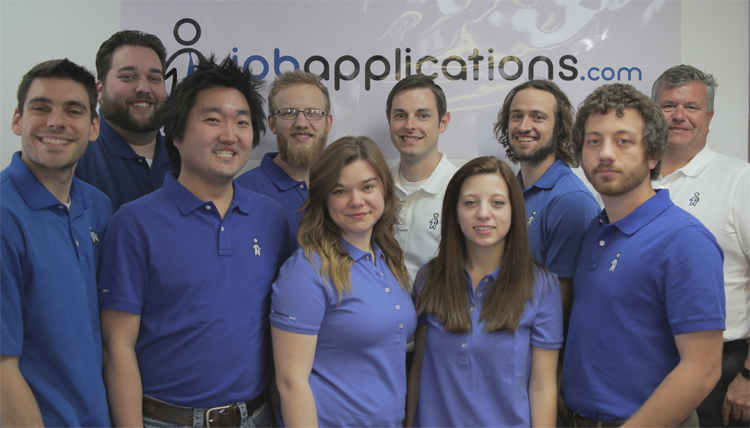 The Video Project
In 2011, Job-applications.com set out to demystify the hiring processes at major brands. We began a video series where we interviewed current and former employees at some of the most sought-after companies for entry-level job hunters. These employees shared their hiring experiences with us and shed light on the processes job seekers may expect to encounter. The series also provided a candid look into the overall employee experience.
Check them out in our video library or at our YouTube Channel.
The filming process began in our offices. We invited local residents who worked for relevant companies to come in and talk to us about their roles. The initial videos were a success, so we set out to grow the series further.
We rented space at a local college and spread the word that we would pay to have individuals speak on camera about their past job experiences. The response was tremendous, with participants eager to share their experiences with us. By going to colleges, we found an efficient way to grow our video library with quality videos featuring people who currently and recently worked for the companies we wanted to learn about. After that, we branched out further and traveled to colleges across the country, gathering insights into companies spanning the nation.
In a typical interview video, an interviewee gives helpful information about their experience in the role. Since our interviewees are not paid spokespeople who provide company-written responses, they offer realistic insights into applying and working for these companies. Some of the topics covered in a video include specific job duties and routines, the work environment, the application process, and questions asked during the interview.
In addition to talking with entry-level employees, we also sat down with hiring managers. These videos give a look at the hiring process from the interviewer's perspective. Hiring managers share tips on what qualities companies were looking for in candidates, answers they liked to hear, and what applicants can do to prepare for interviews.
Today, this long-running series consists of nearly 1,000 videos, which have reached an estimated 11 million viewers in total. Response to the series has been overwhelmingly positive, too. Our YouTube Channel comment sections are full of applicants thanking us because the video helped them prepare for their job interviews.
In the Community
Job Workshops
We aim to be more than an online resource for job-seekers. That is why we created a workshop that provides personalized assistance to members of our community and surrounding areas. The sensibly titled "How to Get a Job Workshop" offers hands-on training to help local job seekers excel in their job hunts.
The workshop is an hour-long event, which consists of three main components; resume assistance, mock interviews, and a presentation about managing social media. Resume building is the first segment of the workshop. Our trained resume specialists sit down one-on-one with participants, review resumes, and offer suggestions on how to make the documents more effective. In the next segment, participants receive interview coaching. This consists of a mock interview where an interview coch critiques answers and shares answering strategies. Finally, there is the social media presentation. This is a thorough presentation about social media decorum and building a professional online presence.
We held the first event locally in North Canton, Ohio in 2014. After a successful initial run, we traveled across the country to help job seekers in more communities. To date, we have held workshops in Toledo, OH, Cincinnati, OH, Detroit, MI, Pittsburgh, PA, and San Antonio, TX. We are always looking to serve more communities. You can request your city as the spot for our next workshop by filling out a request form on our worksop page.
Scholarships
In 2013, we began the Job-Applications.com Working Parent College Scholarship Award. The scholarship program offers $1,000 to parents in the U.S. who are working part- or full-time while enrolled in higher education. Awards are given out twice a year, and winners are selected based on 600-1,000 word essays they submit. In addition to the U.S. scholarship, we have awarded $1,000 scholarships annually to working parents in Canada since 2014.
Our working parent scholarships were founded out of a desire to assist individuals who balance school and parental duties. We understand the struggles working parents face, and we appreciate their efforts to build more fruitful lives for their families. Through our Working Parent College Scholarships, we wanted to lighten their burden a bit and enable them to reach their full career potential. As Doug Crawford, President of Job-Applications.com, puts it, "Not only do we want to help people get a job, we want to help people get better jobs."
We are proud of our roots in Ohio and have awarded scholarships to our local residents too. The Job-Applications.com Ohio Scolarship is a $1,000 scholarship we award to Ohio residents enrolled at in-state colleges and post-secondary schools. Winners are selected by essays they write on Ohio's economic climate and how it affects their career choices. In total, Job-Applications.com has awarded over $30,000 in scholarships since its inception.
Internships
If you're interested in writing, web development, or other fields associated with maintaining a website or online blog and are currently attending college in Northeastern Ohio, go to our Internship page to read more about opportunities to become a Job-Applications.com intern and apply for the position.
Feedback
We care very much about the user experience and welcome feedback from our visitors. If you have any questions or concerns about Job-Applications.com, please email us at dbcrawford @ job-applications.com. If you enjoy the site or have a quick suggestion, please like us on Facebook.