Print Out Aeropostale Application
Download a printable Aeropostale employment form.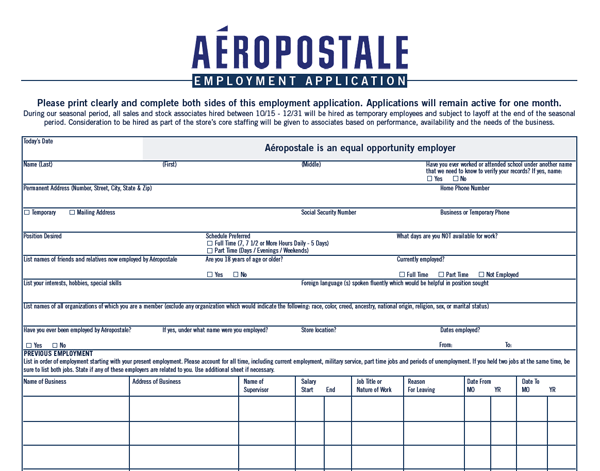 What Should I Do With This Form?
Filling out a job application is overwhelming. The following steps will help you complete it accurately. This gives you a better shot at securing entry-level work at Aeropostale.
Those who decide to apply online can learn more about that process here as well. Additionally, use the site to browse nearby openings and take the first strides toward an Aeropostale career.
Applying for Aeropostale Jobs
Interested entry-level job seekers could submit Aeropostale applications online. However, there are advantages to downloading the above PDF form now, filling it out, and submitting it in person.
For one, candidates have a chance to leave a good impression on the hiring manager. They can also get a read on possible coworkers. Lastly, visiting a store lets job hopefuls see the workspace to prepare for interviews.
Aeropostale Employment Application
First, the Aeropostale job application asks for employee information. Make sure to print name and phone number neatly. Applicants need to list addresses, hobbies, and any special skills. Always frame answers in a way that is relevant.
Candidates then choose to apply for part-time or full-time Aeropostale jobs and specify when they are not able to work. Managers look to hire people with open schedules, but be honest about availability.
Previous Employment
Starting with the most recent employer, applicants must detail their past work experiences. For every job, provide:
Name of the company
Up-to-date address
Supervisor's name
Initial and final pay rate
Title of position
Brief reason for leaving
Date the job started and ended
Having all these facts on hand before beginning the Aeropostale application will be helpful.
Education
For high school, college, and any additional training, the hiring manager needs to know the names and addresses of the institutions, length of attendance, and degrees received.
Extra Inquiries
The last few sections of the application form require the applicant to respond to questions about convictions, legal work status, and points of referral. Check all the appropriate boxes to answer.
References
Next, the candidate gives contact info for at least two people who are not relatives. Each reference should be able to vouch for the abilities and work ethic of the potential employee.
Before Submission
Finally, sign the disclosure and read over the Aeropostale application for accuracy. Once the form is finished, find a local store and turn the materials in to the hiring manager.