Print Out ALDI Application
Download a printable ALDI employment form.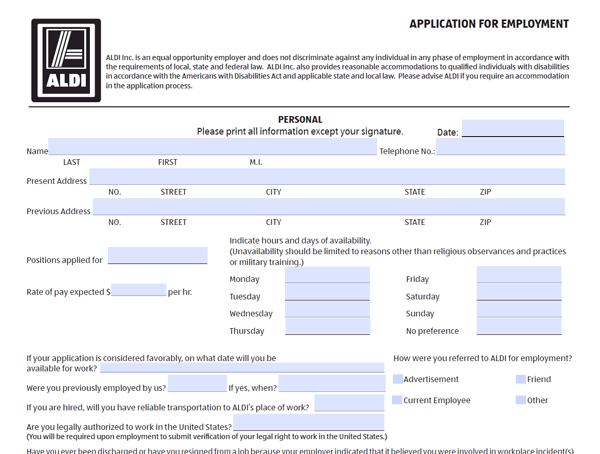 What Should I Do with This Form?
This page provides some simple instructions so you can fill out the application form. Once you are done, bring it to your local ALDI. Additionally, you may read more information about applying online here. Or find jobs open near you.
Why Apply at ALDI?
ALDI is a successful grocery chain and offers both full-time and part-time jobs for entry-level workers. Employees have access to competitive pay and job benefits. Download and print the PDF above to begin an application.
Completing an Application for ALDI
Job seekers who wish to fill out this application form should use a dark pen and write in clear print. Answer the questions and make sure each response is correct before moving on. Topics consist of education, contact info, and employment history.
Personal
The first few lines are for individual details such as name, phone number, and address. Below that are spaces to enter a desired job and pay rate. The following prompts relate to availability, comprising daily work hours and a date to start working.
Job hopefuls must indicate if they have ever worked for the company. Next, the form asks about eligibility and prior terminations. The last space here gives aspiring employees a chance to explain special skills and experiences which may qualify them for the position.
Education
This section of the ALDI job application is for candidates to list their entire school history, including grade point average. Applicants can also describe hobbies and interests relevant to potential work.
Employment
In this portion, the candidate lists previous jobs held. There is room to give the data of four employers, starting with the most recent. Required facts include company location, supervisor, hourly wages, and job duties.
Signing and Submitting an ALDI Application
After finishing all sections, carefully review the responses for accuracy. Then, read the legal agreement and sign the application form. Hand it in to a manager at any ALDI store. Meeting in person will often help during the hiring process.