Print Out Auntie Anne's Application
Download a printable Auntie Anne's employment form.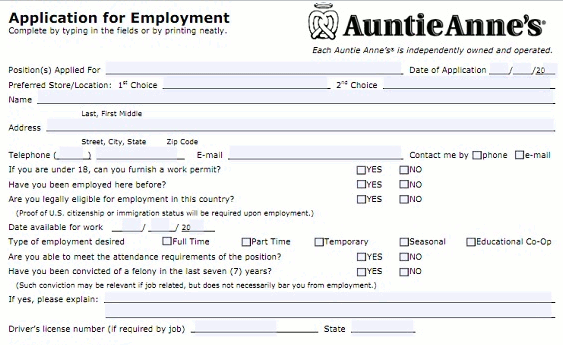 Benefits of Auntie Anne's Printable Applications
Auntie Anne's is a bakery chain selling soft pretzels and snacks. Shopping centers and food courts are common locations, making it easy to find local stores and submit applications. Handing forms directly to managers gives job seekers an advantage over online candidates. In-store applicants can show friendly personalities, professional appearances, and go-getter attitudes. Win over managers by arriving with printed, completed applications ready to hand in.
Completing the Auntie Anne's PDF Application
The two-page application may be completed by hand with ink or filled electronically. Remember to print clearly to avoid confusion, and to answer all sections completely and truthfully. Applications are invalid after 60 days if candidates are not hired.
Personal Information
The form begins by asking applicants to write their desired positions and store locations. Complete the rest of the section by giving names, dates, contact information, employment eligibility, schedule preferences, and driver's license numbers.
Employment, Skills, and Education
Applicants should list their last four jobs under employment history, including responsibilities, dates worked, contact information, pay rate, and reason for leaving. The next area, skills and qualifications, lets job seekers discuss abilities or knowledge that make them great candidates. The educational background section asks for the three most relevant schools attended as well as location, graduation status, and course of study.
References
In the final section, list one personal and two professional references. Personal references are familiar with candidates in non-work settings. Choose people like volunteer coworkers or club leaders. Professional references know the applicant as a worker, like former supervisors or teachers. Include telephone numbers and how many years the applicant has known each reference. Read the additional employment information, then sign and date in the blanks provided.