Print Out Bahama Breeze Application
Download a printable Bahama Breeze employment form.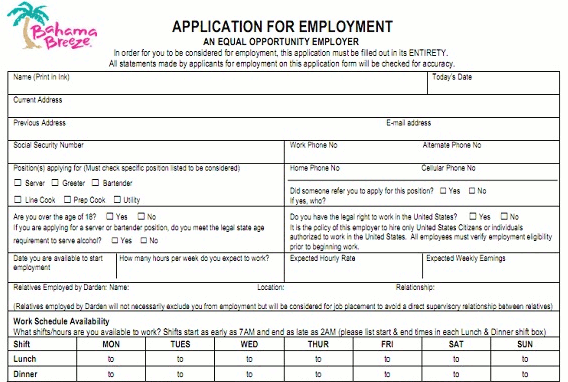 Why Print Out the Bahama Breeze Application
When applying for positions with the Caribbean-inspired grill, it is key to leave a good impression on hiring staff. Companies receive many job forms online, making it hard to review each and every one of them. Printing and filling out the online PDF allows candidates to arrive in person and speak face-to-face with managers and show their eagerness to work with the franchise.
Candidates applying in person for Bahama Breeze jobs should prepare a few short questions to ask when turning in forms. This not only helps job hopefuls gain some insight into the interview process, but it also displays their interest in the job.
Completing the Bahama Breeze PDF Application
The printable application form is two pages long. It consists of questions pertaining to contact and background information. Scheduling and work eligibility can also be found on the application. Use either a black or blue pen to fill out the entire form and write neatly.
Contact Information
The application prompts candidates to provide their name, address, email, phone number, and social security number. Candidates should also list the current date and any further addresses and phone numbers they have.
Eligibility to Work
Next, applicants can place check marks by the positions they are applying for. A series of yes or no questions about age, legal right to work in the country, and references follow. Also, candidates should record their would-be start date, number of desired hours, and expected pay rate. Relatives working for the company should be mentioned in this section too. Lastly, fill in the weekly calendar with available hours, including working holidays and late hours.
Education & Work History
For the education section of this form, state both past and present schools attended, citing locations of schools, last years completed, majors, and degrees. The following section regards work history, and job seekers must state their three most recent jobs, if applicable. Be sure to fill in every line, as this portion asks various questions about past careers. Then, the form requests that military and volunteer experience be written down. Finally, identify "yes" or "no" if individuals have worked for or applied to this business before.
Employment Notices
Making sure to read this part carefully, candidates are asked to look over special notices listed here. The statements focus mainly on company policies. Initial next to each notice.
Statements & Signature
The final part of the PFD requires a signature. This tells hiring managers that all information in the application is true and can be verified for accuracy. It also denotes that applicants agree to the company's terms and conditions. Read through the statement in its entirety and then sign at the bottom.