Print Out Barnes and Noble Application
Download a printable Barnes and Noble employment form.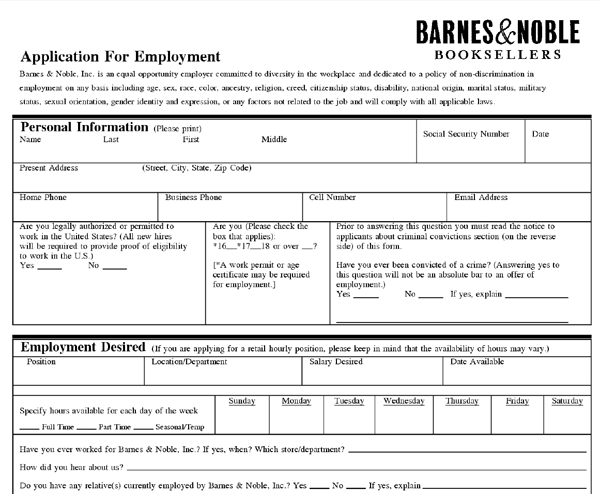 What Should I Do With This Form?
Many recruits prefer filling out paper applications. Use the directions here for help. After printing and completing this PDF form, hand it to a store manager. Job hopefuls can also learn about applying online at Barnes and Noble, or find local openings.
Barnes and Noble Jobs
Working around books is fun and relaxing. Barnes and Noble offers not only a great environment, but employment benefits and generous hourly wages for new hires. Doing an application is the initial step in the hiring process.
Beginning the Application Form
Read through the opening statement explaining the policy of non-discrimination. Barnes and Noble is an equal opportunity employer with a diverse work force and friendly culture.
Personal Information
To start, candidates supply their last, first, and middle names. Social security number and current date follow, plus home and email address. Make sure to include a cell number if house or work phones do not exist.
Write an X in the correct area regarding civic status. Barnes and Nobles jobs are open for those as young as 16, but may require a work permit. In the next section, detail any past or present legal troubles. However, being convicted of a crime is not an absolute bar to employment.
Employment Desired
Enter the job title sought, followed by the ideal pay rate and date available. Mark to apply for part-time, full-time, or seasonal hours. Provide availability in the proper space for each day of the week.
Then, job seekers should note if they have ever worked for the company in the past. After describing how they heard of the job, applicants need to reveal if any relatives are Barnes and Noble employees.
Education
Next up on the job application is education history. Begin with high school facts. Circle the right value for years completed and graduation status. Do the same for college, grad, and trade schools, including the subjects studied and degrees received.
Underneath, describe any relevant skills or knowledge that would further qualify a worker. Aptitude in computer programs like Microsoft Word or Excel is helpful.
Former Employers
Those looking to become workers must fill in their full employment history, even if a resume is attached. This includes info on any ongoing jobs. For teens who have little experience, list volunteer or extracurricular activities.
For each job, put in starting and ending dates. Fill out the company's name and address, along with type of business. Indicate salary and position, as well as the reason for leaving. Mention daily duties and the supervisor's contact details.
References
Give the names, job titles, addresses, and phone numbers for three professional associates. The candidate must have known them for at least a year. Briefly explain the relationship.
Finishing Up
Before signing and dating the sheet, read the notice about criminal convictions. Following this is a voluntary applicant survey. When the application form is complete, hand it in to a hiring manager at the nearest Barnes and Noble.