Print Out Baskin-Robbins Application
Download a printable Baskin-Robbins employment form.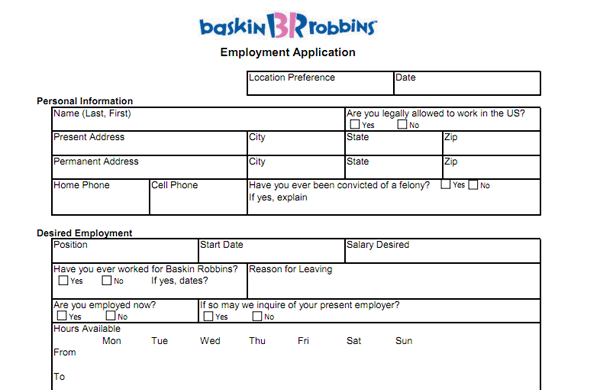 Benefits of Printing out the Baskin-Robbins Application
Baskin-Robbins offers job seekers the ability to fill out hiring forms and submit applications electronically or utilize PDF versions of the employment documents turned in personally by candidates at desired locations. While both options provide individual merits, printing and filling out hiring forms may offer additional perks over traditional online applications. Candidates enjoy limitless amounts of time to complete the paper documents, which enables sound editing and proof reading to take place. Workers must also turn the employment forms into managers directly. The meetings set up opportunities to talk about company protocol, steps in the hiring process, typical responsibilities, salary expectations, and shift capabilities.
How to Fill out the Baskin-Robbins PDF Application
Applicants should gather materials typically required of candidates on retail hiring forms, including contact information, work experience, education histories, and details regarding positions desired. The documents also provide brief spaces for references. Fill in the charts and blank spaces using blue or black ink and write legibly to avoid confusion. Descriptions of the segments found on the PDF follow:
"Personal Information"
Following two prompts asking for the date and preferred location, applicants complete a section detailing contact information and legal authorization to work in the United States. General details include names, permanent and present addresses, and phone numbers. Candidates must check Yes or No for legal right to hold employment in the U.S. and any prior felony convictions. If applicable, candidates must explain Yes answers to felonious criminal histories.
"Desired Employment"
Nine separate data fields appear in the Desired Employment section. Workers begin with specific information surrounding sought-after job opportunities. Place the position name, earliest start date available, and salary expectations in the corresponding boxes. Next, check Yes or No to previous employment with the ice cream chain (with reasons for leaving and dates if applicable). Another Yes or No question asks if candidates currently hold jobs and if the specialty restaurant may contact present places of employment for references. Below the Yes or No questions sits a table applicants must fill in availability for each day of the week. Leave the earliest and latest hours available. The printable Baskin-Robbins application closes the section with a question about any aspects of available jobs aspiring employees remain unwilling to perform. Offer specific details.
"Education"
The brief Education portion of the downloadable document offers spaces for candidates to reveal facts about high school, college, and trade or vocational academic histories. For each institution attended, applicants leave the school names and addresses, dates attended, and indicate graduation.
"References"
Candidates also come across a small segment dedicated to employee references. List three persons able to attest to professional abilities and character traits outside of family relations or close social circles. Include the names, addresses, telephone numbers, and relationships to each referent.
"Employment History"
Begin with the most recent or current job held and work backwards. The Employment History section includes detailed charts for up to three former employers, including company names and addresses, reasons for leaving, starting and ending dates, starting and ending pay rates, supervisor names, and the specific job titles held with brief descriptions of daily responsibilities. Prospective associates should note the document asks for weekly pay rates instead of the typical hourly pay rates and provides Yes and No checkboxes for applicants to sign off granting Baskin-Robbins permission to contact former supervisors. Data boxes for supervisor phone numbers and official titles appear in the section accordingly.
The closing portions of the document coincidentally round out the Employment History section with a statement regarding the commonplace-nature of food-borne illnesses in retail restaurant settings and the necessity of strictly adhering to health and safety standards set forth by the franchised chain of ice cream shops. Yes and No prompts instruct job seekers to list whether any special circumstances exist in which prospective new-hires may not fulfill health and safety expectations. Applicants offering Yes responses must explain why in the space provided.
Below the prompts regarding the handling of foods, workers find general statements about the legality of the hiring documents and the grounds for dismissal based on falsified information provided on the employment requests. After reading through the statements, job hopefuls sign and date the forms on the appropriate lines.