Print Out Bath and Body Works Application
Download a printable Bath and Body Works employment form.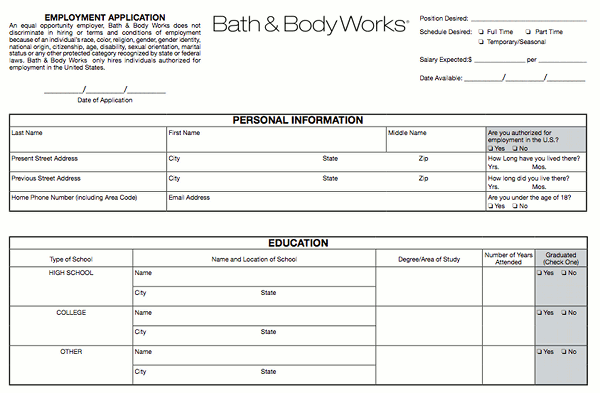 What Should I Do with This Form?
Here you'll find step-by-step instructions for filling out a Bath & Body Works application. Using this PDF, you can print out and hand the form directly to a manager. Or, explore details to apply online and locate jobs near you.
Why Apply at Bath & Body Works?
Bath & Body Works is a beauty supply retailer that hires for part-time and full-time entry-level jobs. During the holidays, seasonal work provides further career opportunities. Doing an application is the first step in the hiring process.
Completing PDF Applications for Bath & Body Works
Carefully follow the prompts and be sure to answer each in its entirety. Use dark ink and write in clear print. Consider the questions before answering to avoid making mistakes.
Personal Information
The top left and right corners have some blanks that are easily missed. These ask for the date, desired position, requested pay rate, and available start day. In the box below, candidates can fill in contact info such as address and phone number.
Education
In the table, job seekers list schools attended, enrollment duration, and diplomas attained. Include high school, college, and any additional training.
Employment History
In this portion of the Bath & Body Works application, there are spaces to enter past and current jobs. Note duties performed, hourly wages, and supervisor contact info. Account for any gaps in employment as well.
The application form also asks about job terminations. The next several lines offer room to explain the circumstances surrounding these dismissals.
Activities, Skills, and Miscellaneous
Here, job seekers detail any special skills or experience relevant to a Bath & Body Works position. This is a good place to mention academic awards or abilities not discussed elsewhere. For those who changed their names or were previous company employees, there is space to write that.
Emergency Contact, Availability, and Signatures
Job hopefuls provide the name, address, and phone of someone to get in touch with in case of emergency. Potential workers then choose open times to work each day, including a preferred amount of hours per week. Finally, they must sign, confirming all answers are correct and accurate.
The next few parts of the Bath & Body Works job application list specific state laws. If the applicant is from Maryland, Massachusetts, or Connecticut, read the appropriate section prior to signing it. Otherwise, skip to the following page.
The Fair Credit Reporting Act Disclosure explains the policy regarding credit report laws. It clarifies variations of the law for certain states. If the company requires a credit report, workers may request a copy.
Handing in a Bath & Body Works Application
After the last sections are complete, review all responses. When done, job hopefuls should sign the application form. Lastly, turn it in at a hiring location. Take this time to meet managers and other employees. Delivering it in person is the best way to get a sense of the store.