Print Out Big Lots Application
Download a printable Big Lots employment form.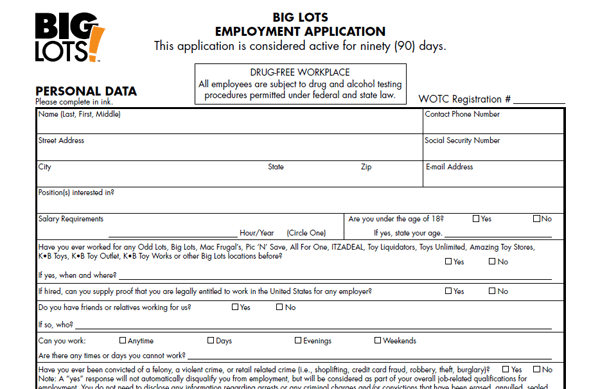 Benefits of Printing out the Big Lots Application
Applicants looking for work with retail giant Big Lots benefit from printing out the downloadable PDF employment form due to the face-to-face interactions required to hand in paper hiring requests. Such meetings provide the perfect circumstances to talk about aspects of the job at hand, specifics regarding hiring practices, and general questions about work environments and expectations. Arriving with the forms complete and ready to submit also communicates strong desires to gain employment and professional attitudes, which hiring personnel often look for in new employees.
How to Fill out the Big Lots PDF Application
The Big Lots printable application requests workers fill in the forms using ink for clarity and permanence. Employment requests remain active for 90 days after submission. Individuals should reprint the forms in the event of making mistakes to ensure the quality of the applications; however, use of whiteout to correct errors remains perfectly acceptable. Fill in all required sections completely and accurately.
"Personal Data"
Applicants enter basic contact information into the Personal Data section starting with last name, middle initial, and first name. The form also offers blanks for addresses, phone numbers, positions of interest, salary expectations, and age verification. Workers must indicate any past employment with Big Lots or other companies in the corporate umbrella. The section asks about legal right to work in the United States and provides checkboxes for daily availability, as well. Mark anytime, daytime, evenings, and/or weekends. A final question probes into applicant criminal histories, if applicable.
"Education"
The Education section asks candidates to list academic backgrounds and provides spaces for up to four different institutions, including any high schools, colleges, graduate schools, or other vocational schools attended. Workers mark down the names and locations for each institution, areas of study, and years completed as well as indicate graduation and receipt of diplomas or degrees.
"References"
Big Lots applicants must also provide contact information for up to three references. Individuals may offer additional references if desired; however, any added referents must appear on separate sheets of paper attached to the main documents. Required information includes the names, telephone numbers, emails, addresses, and occupations of the persons listed. Refrain from using family members or close friends as references.
"Employment History"
Candidates begin the Employment History section of the application by granting or disallowing the retail chain permission to contact current and/or past jobs. Then workers list employment data chronologically backwards starting with the most recent or current positions held. The Big Lots printable PDF asks for company names, addresses, and phone numbers, specific job titles, responsibilities, dates employed, supervisor names, reasons for leaving (indicating voluntary or involuntary or terminated), and beginning and ending salary rates. Job hopefuls may list up to five previous employers. A series of legal statements follow the chart used to collect employment information. Prospective associates sign off on the documents and data provided on the line at the bottom of the second page.
"Pre-Screening Notice and Certification Request for the Work Opportunity Credit"
Big Lots candidates finalize submissions with tax credit forms. The legal documents ask workers for basic contact information in addition to details regarding financial status. Other topics broached include any federal assistance related to disaster relief or military veteran services. Check the boxes accordingly and sign on the line provided.