Travel Job Opportunities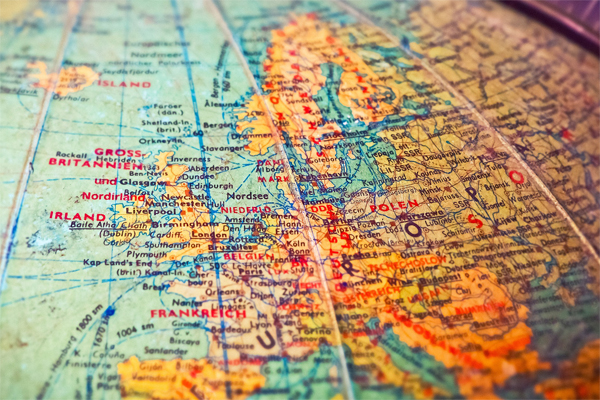 Have you ever dreamed about finding a job that pays you to travel?
Want to cross a few cities off your bucket list?
Entry-level traveling jobs with no degree required are more common than you may think. Certain careers need a little legwork upfront, but the benefits last forever.
Examples of Jobs that Include Travel
Flight Attendant Jobs
If you're looking for a thrill, a flight attendant job is a perfect way to see new places and meet a diverse mix of people. On most days, demanding entry-level airline jobs involve travel and lengthy full-time hours. Great flight attendants possess strong social skills.
How to Start
Open airline jobs for flight attendants show up online, usually through a career portal. You must be at least 21 years old with a high school diploma or GED. Plan to undergo a full background check too. Once the hiring process is complete, airlines provide all necessary training.
Pay and Benefits
Airline jobs offer competitive pay rates starting near $16.00 per hour. The benefits of this travel job are a major selling point. Vision, dental, and medical insurance are standard, as well as 401(k) plans. Best of all, flight attendants get wonderful airfare discounts.
Cruise Ship Jobs
This may be the ultimate job where you travel. Working on a cruise ship allows you to visit every port city while enjoying the onboard luxuries. There are a number of traveling jobs with no degree needed on cruises. Retail is a popular entry-level field considering the benefits and perks.
How to Start
Lines advertise cruise ship job openings on their career pages and other hiring websites. Vacation companies hire driven individuals to assist and inspire passengers, or sell souvenirs and luxury items. Basic computer skills and a high school education are all you need for these travel jobs.
Pay and Benefits
Cruise ship jobs offer solid salary options, plus commissions for sales associates. Each employee receives a guest room and paid meals. While aboard, workers access amenities such as gyms and spas. Generally, staff can disembark to explore once the boat docks, making this an awesome travel job.
Au Pair/Nanny Jobs for Travelers
Experienced babysitters and childcare providers have an advantage when it comes to jobs that include travel. Au pairs, or nannies, might work for a host family in another country, taking care of kids and doing light house chores.
How to Start
Those searching for au pair jobs where you travel should begin at a reputable website to find host families. The sites let parents see a clear description when picking who to hire. International au pairs must have passports. Also, bear in mind, visa and residence paperwork can take time.
Pay and Benefits
In addition to rooms and meals, au pair jobs involving travel earn a fair salary package. Employment benefits differ, but may include medical insurance. Some nannies even get a car to drive so they can transport the children and run errands.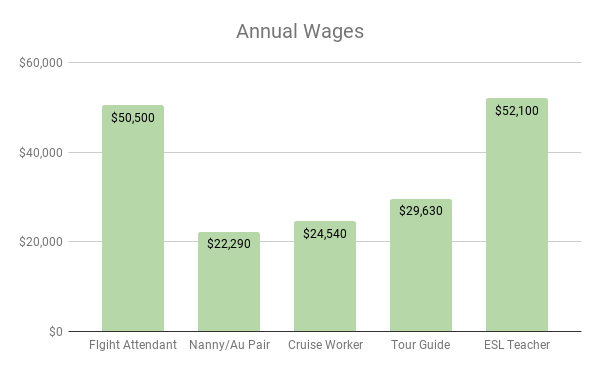 Data courtesy of U.S. Bureau of Labor Statistics
Teaching English as a Foreign Language
Most think teaching English abroad requires a degree. However, there are some countries known to hire native speakers to teach or tutor conversation. They could insist on TEFL certification, though these overseas travel jobs have so many benefits that a few classes are worth it.
How to Start
The first step is to research international teaching job boards and certificate training. In general, programs are not too expensive, and a lot of them help you find work. Argentina, Cambodia, Spain, and Russia all accept native English speakers for travel jobs with no degree.
Pay and Benefits
Teacher jobs that include travel receive salary packages in the currency of their host country. Most schools provide housing, healthcare coverage, and other benefits. Paid vacation time is often generous. As a result, you get plenty of chances to sightsee.
Tour Guide Travel Careers
Workers share colorful facts about historic towns, attractions, or natural wonders. This is amazing if you are an outgoing storyteller or just love talking. Camping experience might give you an edge for entry-level work in adventure tourism, or any jobs that pay you to travel and guide visitors outdoors.
How to Start
Tour guide certification is the fastest route to a travel job with no degree. The fees can be costly, but a lot of training centers guarantee employment. To skip the class, look for adventure travel groups and apply online. Many companies train employees to be organized and adaptable.
Pay and Benefits
It depends on the company, but tour guides average $8.00 to $14.00 in hourly wages, plus tips. Employment benefits like healthcare coverage or room and board may be part of the salary package for global travel jobs involving adventure tours.
The Benefits of Jobs That Require Travel
These kinds of entry-level roles are ideal for young workers or those looking for a change in career. Travel jobs are a great way to gain valuable experience as you discover new cities, cultures, and people.
Not only do you earn a good salary in travel jobs, you get to make connections all around the world. But the real joy is creating memories that are sure to last a lifetime.