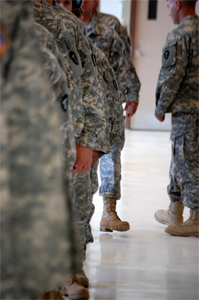 U.S. involvement in military occupations over the last decade has produced a new generation of veterans returning home from active duty. In November 2011, ABCNews reported an estimated 2.3 million servicemen and women serving in the Afghanistan and Iraq conflicts since September 2001. The stats provided by the news network also show that more than half of the total number of military personnel deployed to serve in both conflicts were redeployed at one time or another. While members of the armed forces make up only a fraction of a percent of the population (.75%), the group represents a large portion of the workforce after returning home from deployment and active service, which facilitates the necessity for hiring military veterans into civilian jobs.
Many Veterans Unemployed and In Need of Help
Despite decorations for valor and merits received during service along with highly specialized training in fields like information technology, engineering, management, and logistics, bad economies and slow hiring trends over the last four or five years of the recent economic recession leave many veterans jobless without any real workforce experience. The Bureau of Labor Statistics claims more than 722,000 veterans, or 31% of total veteran populations, were unemployed in 2013. The same year, USA Today Online reported a statistic gathered by the Department of Veterans Affairs showing roughly 50,000 homeless or government program-dependent veterans lived in the United States. The National Coalition for Homeless Veterans estimates the statistic for homeless and at-risk veterans rests around 115,000 as of August 2014.
The Home Depot
One of the most active companies hiring U.S. veterans is The Home Depot. According to the company website, Home Depot hired 60,000 veterans between 2004 and 2014. In fact, the major hardware store chain has received numerous awards and national recognition for efforts in hiring veterans. Aggressive veteran hiring initiatives earned the company the Homefront Award given out by Employer Support of the Guard and Reserve Association in 2003. The company has also received the distinction of being a three-time Forbes Magazine Top Ten Military Friendly Employer in the last decade. Home Depot works with both active and inactive service members through various programs allowing military personnel transfer due to base relocation or reassignment and working directly with recruiters to help place veterans in meaningful jobs.
Interview with a Soldier about Working in the Private Sector

Other Big Companies Helping Veterans
Joining The Home Depot in efforts to place veterans in the job market include public companies like McDonalds, Dollar General, Cintas, Nike, Disney, UPS, JPMorgan Chase, Hertz, GNC, and Waste Management, among hundreds more. Nationally renowned Office Depot Inc., proprietor of Office Depot and OfficeMax retail outlets, represents another large company heavily invested in hiring on veterans. The public company established a partnership with veterans career website Military.com in August 2014 to make thousands of job opportunities available through the popular online resource. The office supply corporation intends to hire 100,000 veterans on staff by 2020.
Popular Industries for Vets
Veteran hiring represents a major social program put on by companies looking to hire thousands each year. In fast food, the aforementioned McDonalds as well as Burger King and Popeyes are frequently mentioned as major veteran employers. Banks also represent a very active industry in hiring veterans, with names like BNY Mellon, Fifth Third Bank, PNC, and CHASE providing hundreds of thousands of job opportunities to former American G.I. Trucking companies such as USF Holland, airlines like Southwest and United, and gas stations such as Shell, Phillips 66, and Exxon/Mobil are just a handful of prominent companies in nationwide industries looking to hire veterans in the coming years.
Interview with a Marine about Working in the Retail Industry

Temp Agencies that Work with Vets
In addition to large public and private companies, many staffing agencies put forth extra efforts to help veterans find jobs. Kelly Services and ManPower are two well-known staffing agencies who work directly with veterans to place them in various temporary and temporary-to-permanent jobs. Both companies maintain connections with millions of corporations worldwide, including the U.S. Federal Government, and work with veterans to find specific career fields and positions with sustainable pay and access to benefits. Veteran jobs available in the staffing industry as administrators and recruiters are great avenues for former military personnel to find work, as well.
Veterans Resources at Job-Applications.com
What we try to do here at Job-Applications.com is connect veterans with companies like Home Depot and Office Depot/OfficeMax to facilitate hiring and provide job resources to both active and inactive military personnel as well as civilians. There are nearly 100 companies found on our website that actively hire and sponsor onboarding initiatives aimed at veterans and military personnel.
Additional Resources
Check out our website to find detailed information on companies hiring for veterans, complete with average salary options and entry-level pay scales, specifics on the hiring and application process, downloadable employment forms, and breakdowns of popular positions available at each company. We're as committed as other companies to helping veterans find work in this challenging job market. Hopefully our site can help you land meaningful and sustainable employment.
Interviewing
Here are a few helpful answers to common questions often asked of vets during job interviews:
Question: What Kind Of Training And Education Did You Receive In The Military?
Answer: At this point in the job interview, discuss training and education you received related to this position. Specific training is good, but you can also mention how you gained leadership skills, learned how to work in a team, and developed your abilities to complete tasks based on specific directions. This is your chance to go in depth on education or specialized training you received in the military.
Do not talk about negative experiences you had with the military. Don't bring politics into the polite conversation of the hiring process. Don't lie about training or schooling the military provided for you, as this information is on file. Employers can rightfully terminate employees who lie in a resume, during the job interview, or on an application form.