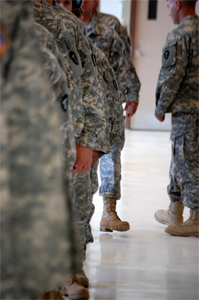 The CNA Military Advisory Board reports that 1.29 million people are actively serving in the U.S. military. That's less than 0.5 percent of the U.S. population, but those people make up a meaningful part of the workforce when they return home. It's crucial for veterans to know what civilian jobs are best for them.
Veterans in Need
Servicemen and women often go through special schooling in fields like information technology, engineering, and management during their enlistment. However, those skills don't always translate to non-military jobs. The U.S. Department of Labor reported that 3.5 percent of vets were unemployed in 2018.
The veteran unemployment rate seemed to decline in 2019. Still, it's important to ensure those who want and need work have access to it. Some companies that hire veterans go above and beyond to accommodate them.
Retailers
One of the top retailers hiring veterans is Walgreens. The pharmacy chain's HERO Program provides management training, mentorship, and other resources to former and current military members. Some of the courses offered are even eligible for college credit.
The Home Depot has also made a commitment to supporting veterans. More than 35,000 vets work for the home improvement store. The Home Depot further supports past and present military members through various donations to pro-vet groups. Additional retailers that stand out in their efforts to hire veterans include Walmart, ACE Hardware, and Verizon.
Interview with a Soldier about Working in the Private Sector




Food Service
G.I. Jobs lists McDonalds as a top military-friendly employer. Thousands of vets work in the company's more than 10,000 locations across the U.S. The restaurant chain has programs designed to retain veteran employees and help them earn promotions. Many have used the expertise they developed in the service to grow lasting careers at McDonalds.
Chick-fil-A is another standout employer of service members. The fast food franchise honors them with free meals and discounts on Veterans Day. Chick-fil-A also celebrates these employees in regular posts on its blog. Popeyes and Starbucks are other eateries with good veteran relations.
Other Popular Industries for Vets
Some of the best jobs for veterans require skills that align closely with those they learned in the service. A few other industries and associated companies providing opportunities for vets to use their specialized knowledge are:
Interview with a Marine about Working in the Retail Industry

Getting A Job As A Vet
Temp Agencies Working With Vets
Some organizations work with veterans to place them in good jobs with the right companies. The temp agency Kelly Services hires thousands of veterans each year and finds positions suited to their experience. ManPower and Randstad also offer special help to former service members.
Show Your Skills
If you're a veteran, use your experiences in the service as talking points to bring up the valuable skills you acquired. On your resume, highlight any training you went through, and any leadership positions you held. You can talk to the hiring managers during an interview about the abilities you have thanks to your time in the military.