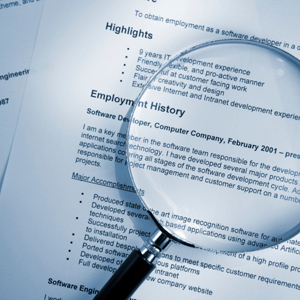 The Importance of Having a Resume
Writing a resume is often necessary when looking for work. You may not have to write or produce a resume for every job, but many professional careers require you to submit resumes, so it's always a good idea to have one handy when applying for a position.
You want to make sure your resume is updated. Contact information, work experience, education history, and job-related skills are common sections found on resumes. Having one drawn up before you begin submitting applications, or even looking for work, cuts out a lot of unneeded stress from your life.
Selling Yourself on a Resume
Just as important as having an up-to-date resume, you'll need to market yourself effectively as the right candidate for the job. Showing confidence in yourself and your abilities can go a long way with impressing a hiring manager. When creating a resume, focus on:
Your background – Include a section that covers your education or work history to show employers you're qualified.
Your Strengths – Dedicate a portion of your resume to highlighting your strengths and talents to help the hiring manager see why you're a good fit.
Your Track Record – What have some of the past successes of your roles been? If you can, try adding a section where you exceeded expectations or achieved your goals.
How To Describe Yourself on a Resume
One thing to keep in mind when creating a resume is that many companies are now asking for what are called "descriptive phrases." Descriptive phrases are objective statements that sit at the top of your resume below your contact information.
Objective statements are fairly general, but they should give a brief overview of your aspirations, skills, and qualities. This statement is usually a single sentence and is easily digestible. It's not uncommon for employers to ask you to specifically include descriptive phrases in a resume during the hiring process.
What's In a Descriptive Phrase?
So what goes into a descriptive phrase? Well, that largely depends on who you are. The descriptive phrase should capture your professional side and abilities, but it's also meant to demonstrate your personality and qualities related to what you like to do in your free time.
Now, how you fit that into one sentence usually takes some thinking. Spend a little time working on your descriptive phrases so that you do not misrepresent yourself. Being honest and open with employers is key, especially when making a first impression with your resume.
Types of Descriptive Phrases
There are many types of descriptive phrases you can choose from when creating your resume. When coming up with your own, think about your skillset and what this new job will require of you. Will you need to be analytical? A team player? Creative? Keep reading to find a list of descriptive phrases and adjectives you can use on your resume.
Critical Thinking
If your job will require a lot of analytical or critical thinking, you're going to want to show your employer that you have the knowledge and skills to succeed. When writing your descriptive phrase, pull from this list of adjectives to impress a potential hiring manager and show you have what it takes:
Strategic
Logical
Perceptive
Meticulous
Insightful
Leadership
Companies always want strong leadership. Showing a hiring manager that you possess the desired traits to move up and be a leader or work in management can better help them envision you with the company. If you want to describe yourself as a leader, use some of these phrases and words:
Reliable
Honest
Accountable
Determined
Decisive
Creative
For creative types, making yourself stand out from the crowd can be difficult. Even with an abundance of projects and designs under your belt, it can still be hard to get noticed. Adding some descriptive phrases and the right adjectives to your resume can help you stand apart from the rest of the pack:
Imaginative
Progressive
Innovative
Unique
Cutting-edge
Enthusiastic
Enthusiastic workers are always in demand. A great way to make a lasting impression with your resume is to show your enthusiasm and how passionate you are about the job or field. While it may be easier to get this across during an interview, using some of these phrases may help you get a foot in the door:
Dedicated
Committed
Energetic
Passionate
Determined
Reliable
Also at the top of a hiring manager's list is reliability. Companies want to know that you're going to come to work and that you're going to get the job done when you're there. To show how reliable you are to employers, you can pull from this list of words for your descriptive phrase:
Dependable
Professional
Punctual
Consistent
Diligent
Having multiple descriptive phrases at the ready serves a purpose. You don't want to have a general blanket statement for every job because not all jobs are the same. The retail store that requires you to work as part of a team probably won't want to know that you prefer to work alone. Part of creating good descriptive phrases is making sure the information you provide is relevant to the job at hand.
Professional Drive
Begin by examining what you would like to achieve in your career. How do you reach your goals? Are you hardworking? Are you determined, passionate, motivated, or inspired? You don't want to put negative characteristics in your descriptive phrase, but looking at what you are not can give you an idea of what you are. Any place is a good place to start if you haven't started already. For example:
Innovator looking for a long-term administrative position in a financial setting.
Target Goals
When you've got a few adjectives that describe how you're setting about your career goals, you then want to start looking at what you would like to be doing and where. Where do you see yourself? Where would you like to work? What industries would be best suited to your abilities?
If you don't have any industries in mind, that's okay. Instead, you'll want to focus on the types of tasks you enjoy taking on, whether they're group settings, short-term or ongoing, multitasking, data entry, manual labor, brainstorming, etc. For example:
Team player who enjoys ongoing projects and multitasking.
Personal Interests
While the focus of getting a job isn't about making sure your personal life stays as is, it should factor into your decision. Selecting a company that aligns with your moral and personal views helps you get off on the right foot. Still, employers will want to learn about you from your resume. The descriptive phrase lets you put in a few adjectives or nouns that reflect your interests. For example:
Dedicated and motivated IT professional, outdoors enthusiast, and graphic artist.
Things To Avoid With Descriptive Phrases
Since your resume is your first chance to make a good impression, leading with a strong descriptive phrase is very important. When crafting one for your resume, there are certain things you need to avoid. A few examples of things you shouldn't do in your descriptive phrase are:
Write an incomplete sentence or miss typos and grammar errors
Exaggerate your skills or abilities
Use the same statement for every job application
Tying It All Together
Now that you've taken a few moments to think about your professional life, ideal workplace, and personal interests, as well as the jobs you'd like to apply for, it's time to bring it all together in a clean, concise sentence. Work with various adjectives to make sure they're industry- or company-specific.
A good way to look for keywords to add to your descriptive phrase is to check out websites like Job-Applications.com and read what others have written about their fields. Look for terms that best describe the industry or specific companies and adjectives used in job postings. Checking each company website also helps.
When you are all finished, review the sentence for spelling and grammar and then paste the descriptive phrase at the head of your resume. You should try to change it up for every job application. Taking the time to reflect on the values of a company shows that you understand its mission and are willing to put in the effort to land the job of your dreams.