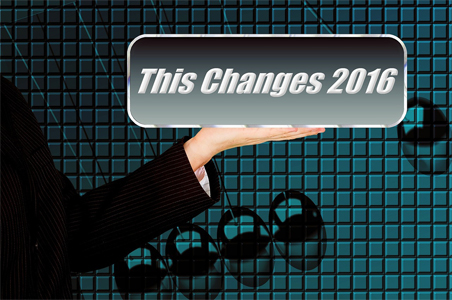 Poll Overview
Has it really been a year already? Well, it must be, given the cold and snow are back again. And with them comes new opportunities to start anew. New Year's Day is a traditional launch point for millions of people around the world, especially when it comes to looking for employment. People set new goals, build off accomplishments from the previous year, and make preparations for the unforeseen. So to see what people thought about the past year, we put out a poll asking for feelings and predictions for 2016 and the state of the U.S. job market.
Question 1: Do you think that 2015 held more or less employment opportunities than in years past?
The national unemployment rate fluctuates year to year, month to month, even day to day. Sometimes it's difficult to gauge just where our country is at in terms of available jobs. That's why we poll our users to see what people actually looking for jobs are encountering in the workforce. According to the data we collected, a majority of people (44.7%) felt there were more jobs available in 2015 than in years past. Around a quarter of our respondents felt there were similar amounts of job opportunities, while roughly 30% of our polling populous felt there were less employment opportunities.
Question 2: Do you think the overall job market will get better or worse in 2016?
As we look ahead to 2016, one of the major questions on everyone's minds, especially since it's an election year, is job creation for the future. While there's no way to know exactly how the job market will fare over any time span, let alone 12 months, analysts use polls like the one we've run to see how people are feeling about employment prospects in general. When we asked our site visitors whether the job market would improve or decline, a staggering 61% said they felt it would improve in 2016, while 28% said they were unsure, and another 10% said it would decline.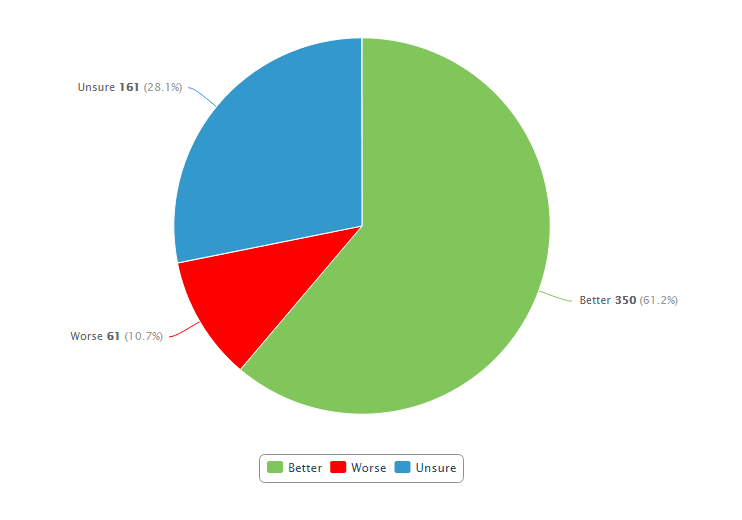 Question 3: Do you believe the "American Dream" still possible in today's economy? In other words, do you believe that through persistence and hard work, people who are now struggling can become wealthy?
The American Dream has come under fire over the last decade or so. Generations today are expected to do worse than their parents for the first time in the country's history. A lot of this is due to the economic collapses in 2008 and 2009. But we're years removed from then, and the markets have almost all but recovered, despite there still being a lot of work to do to get our country back as strong as it once was financially.
However, most people we polled still believe in the American Dream. Tallying the votes, we found almost 70% of our users feel success can still be achieved through hard work and persistence. But the data also suggests some people are unsure. Around 20% said they didn't know if the American Dream was still possible just by working hard and being consistent, while 10% said it's no longer possible to find success by working hard alone. Either way, it appears most of the people living in this country still have faith in what they do and the remarkable history the United States holds.
Question 4: Have you done anything in 2015 (education, training, etc.) to improve your job outlook for the new year?
Improving your selling points is crucial when looking for employment. Managers don't want to hire the same-old boring candidates time and time again. They want diversity. They want different. And the best way to stand out against other prospective workers is to beef up your resume. Some people take on internships or volunteer opportunities. Training courses, online classes, and bachelor's or graduate programs increase candidate viability. So, what are job seekers doing now to improve how they look to hiring managers? A whopping 38% of employment hopefuls said they did nothing in 2015 to bolster their resumes. Roughly 15% of our responders said they worked an internship or apprenticeship, while 45% said they did something else to build their resumes or improve their skillsets. Even though 45% said they did something, the most striking figure is the 38% that did nothing. That seems like an awful lot of missed opportunities to get ahead.
Question 5: Overall, for 2015, how would you rate the condition of the national economy?
Outside of what analysts tell you to think on CNN and Fox News, people have their own opinions on the state of the economy. I always feel it's better to ask the people affected by the day-to-day swings in the market, and so we polled our site users about how they felt the economy held up in 2015. What we found is that nearly 80% of the people who responded felt the economy was at least fairly good, with 16% of those people going so far as to say the economy was very good. Only 20% or so said it was bad or very bad. That's optimistic.