Below is our list of the top 15 largest fast food chains, grocery, and retail stores that hire at fourteen years old:
Top 15 Companies Hiring 14 Year Olds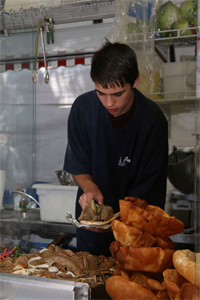 Working at 14
Adventures in professional work often begin with that very first job acquired in our teen years. Most states allow young, aspiring professionals to get jobs at age 14. Teenagers looking for work face more obstacles due to state laws, but we won't get into that in this blog. Instead, we'll talk about the types of jobs available to teens looking to find that first line of work. Options, while certainly limited, are still available and in a variety of industries offering decent starting pay and access to full-time or even long-term careers if played right.
The Best Places to Look for Jobs for Fourteen Year Olds
In 1999, the U.S. Bureau of Labor Statistics reported that around one-quarter of 14 year olds held what most would consider a "regular" job, or work that wasn't freelance. While 1999 is now 15 years in the past, it's probably still fairly indicative of the youth job market today. That means there are places that are hiring fourteen year olds in most areas, and most likely in the areas where you live. State law may limit opportunities for 14 year olds; however, many states allow for fourteen year old job seekers to find work in various industries that don't pose physical or emotional risks or threats.
Where you want to start looking for jobs as a 14 year old are local fast food restaurants, retail stores, and grocery stores. While the minimum hiring age for many of these places begins at 16, special allowances are made at restaurants like McDonalds and Burger King, such retail chains as Hobby Lobby and Hallmark, and supermarkets like Piggly Wiggly and Giant Eagle for teens able to get their hands on work permits provided by the state and available at local school administrative offices. Local paper routes or freelance landscaping jobs are also options kids can take on without having to go through traditional avenues of finding jobs.
Where to Apply for Jobs at 14
The best ways to put in job applications include handing in physical forms directly to hiring managers and submitting employment documents online. Paper applications allow for possible face-to-face interaction with hiring personnel; however, with greater use of online applications by top companies, including many that hire 14 year olds, applicants can submit multiple hiring forms in a short amount of time. Our site, Job-Applications.com, provides access to hundreds of downloadable applications and links fourteen year olds may use to aid in hunting for jobs. We try to make it easy for young job hunters to find entry-level work, begin building resumes early, and start learning applicable skills for later in life.