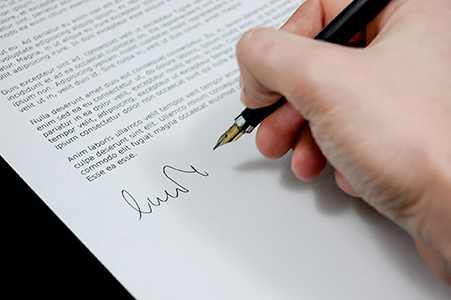 One of the things job seekers often forget is that cover letters are a great way to expand resumes. Cover letters are an opportunity to talk, at length, about why you want a particular job and what you've done to prepare for the position. While the contents of a cover letter are obviously important, one area of the document seems to slip people's minds, and that area is the signature line.
Why You Sign
No one would argue that the advent of the internet and continued development of mobile communications has led to shorter, briefer correspondence between people, even in the business world. We saw it in the 1990s with AOL's AIM service and then with text messaging in the 2000s. Now we have apps like FaceTime and other forms of informal communication that businesses are starting to use more and more on a day-to-day basis. With that said, the availability of informal communications doesn't mean there isn't still a need for professionalism when looking for work.
Ways to Sign Your Cover Letter
If you're submitting a cover letter by hand, the most obvious way to sign the document is to physically take a pen and sign your name at the bottom once you have proofed it for errors and printed it out. Easy. But what about submitting an electronic cover letter? Well, in that case, you're going to need to take one of two routes: 1.) Type your name out and provide contact information in tiered fashion or 2.) Sign your name on a piece of paper, copy the signature and load it into your computer, crop the image, copy the image, and then paste your signature in the appropriate place at the end of your cover letter.
If you decide to type out your signature, you're going to need to make sure you include the correct contact information. The information provides hiring personnel the best ways to reach you if your resume is pulled or if they have any additional questions to ask. You want to include your full name (obviously), email address, phone number, and a cell phone number if the two aren't the same. Some people like to provide their mailing addresses, as well, which is fine. It's really all about what kind of information you're comfortable giving out. But at a base level, you want to give an email address and a phone number. Below are some examples:
Doug Crawford
1234 America Lane
Anywhere, CO 12345
(123) 456-7891
[email protected]
Or…
Doug Crawford
[email protected]
(123) 456-7891