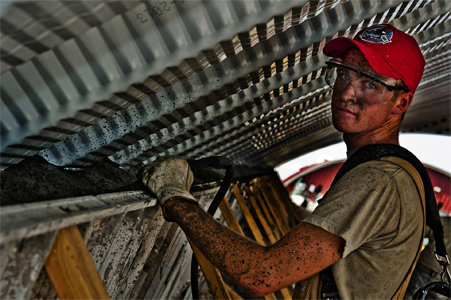 Ah, summer. For a while there I was worried it might be winter forever. But, we've finally made it to warmer weather and, for now, it looks like it's going to stick around. Summer is always a unique season when it comes to job hunting. Not unlike the busy holiday shopping seasons in November and December, companies throughout the United States begin hiring on new help in the early spring as college-age workers leave to pursue professions or return home for the summer session and K-12 school years end.
The U.S. Bureau of Labor Statistics reported last year the number of youth employed 16 to 24 jumped by 2.1 million from April to July. Hiring generally takes places right after Q1 reports come out (or Quarter One for the non-corporate types). Companies like YMCA and Lowe's hire on thousands of workers each spring to fill both seasonal roles throughout the summer as well as part-time and full-time permanent positions to combat regular employee turnover.
Kids and teens often get their first tastes of the workforce in the many seasonal positions available between April and August, including paper routes, car wash/detailing jobs, youth sport refereeing, and manual labor on farms. Depending on the area you live in, you might run into some or all of these opportunities, but one thing is for sure: if you're hungry for a job, the summer is a great time to find work.
To get a better picture of how the summer hiring season shaped up for our users, we created a poll asking people to reveal their ages, whether or not they are currently employed, what type of job they currently hold, what type of summer job they would like to find, what kind of pay they are looking for, and how long they think it will take to find summer work. The survey features responses from around 1,700 people. In a lot of ways, the poll told us what statistics already tell us is true, but the data also fills in the gaps and provides us a more detailed glimpse of what kinds of people are looking for summer jobs and what those people expect to find.
Question 1: How Old Are You?
The first question in our summer jobs poll asked respondents to reveal their ages. We gave users five options, beginning with a 12-to-17 category and ending with a larger category of persons 40 and over. Out of the roughly 1,750 people who responded to the question, 35.6% (621) were between the ages of 12 and 17. The next largest group included youths 18 to 23 (24.5%/428). 40 and older represented the next largest category of summer job seekers, with 19.5% of the total survey field, followed by 30 to 39 (11.9%) and rounded out with 24 to 29 year olds (8.5%).
While our findings point to what most would expect; that young persons are the most active in looking for summer jobs, it also points out that people nearing retirement appear to be looking for summer work. The least active group, 24 to 29 year olds, may not be looking for work because they're just getting their feet wet in professional careers.

Question 2: What Is Your Current Level of Education?
We next asked people for their highest levels of education. Our poll question was pretty standard and provided respondents the choices of some high school, high school, some college, bachelor's degree, and some graduate school. The data revealed a substantial majority of people (1,369/1,695) who responded to our poll either hadn't finished high school yet or held high school diplomas as the highest level of education completed. Less than 20% of the survey field had some college under their belts, bachelor's degrees, or graduate work. It looks like most of the people in search of summer jobs haven't completed high school yet, which when combined with our poll question about age, falls right in line with the BLS stats showing the increase of employment among young workers 16 to 24 each spring.

Question 3: Are You Looking for or Have You Already Found a Summer Job?
For our third poll question, we asked people if they are currently looking for summer work or if they had already found summer jobs. Most of the people who responded (52.6%) indicated they were currently looking for summer work. However, we took the question one step further and gave people the option to mark whether they were permanently employed or unemployed but not looking for summer jobs. Surprisingly, many of our poll takers (31.8%) said they were unemployed but were not actively seeking summer employment. The data suggests the unemployed not looking for work this summer might instead be searching for full-time careers. Only 4.4% of those surveyed reported having summer jobs.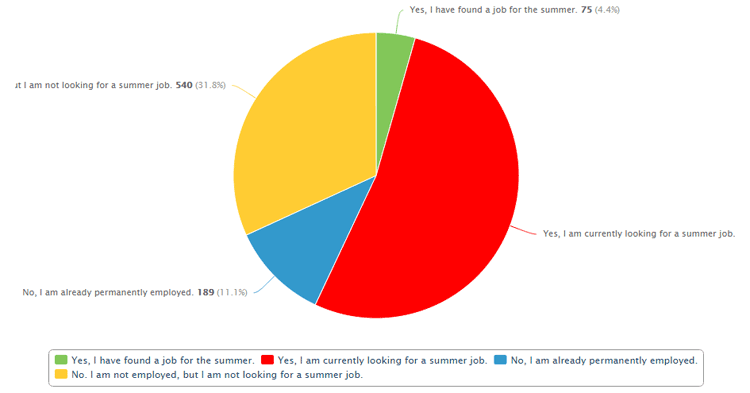 Question 4: If Yes, What Kind of Summer Job Are You Pursuing?
While jobs come in all shapes and sizes, there are a number of industries that appeal more to the summer job seeker than others. Chief among these are retail jobs, landscaping positions, and work in theme parks and camps. To get a better idea of where people are looking, we gave respondents six choices of popular industries applicants find summer jobs: retail, restaurant/hospitality, landscaping/construction, camp/theme park/water park, agricultural, and other.
Nearly half of everyone that responded to the question said they were looking for work in retail (49.5%). Almost nobody, a whopping .1% of respondents, said they were looking for work in agriculture, while the restaurant/hospitality category received 19.4% of votes cast. 4.2% said they were looking for jobs at camps, theme parks, or water parks and 2.4% were looking in construction and landscaping. The second-largest category, Other, received almost 25% of votes, which places retail, sales, customer service, restaurant, and hospitality jobs at the head of the summer employment pack, with various other industries trailing right behind.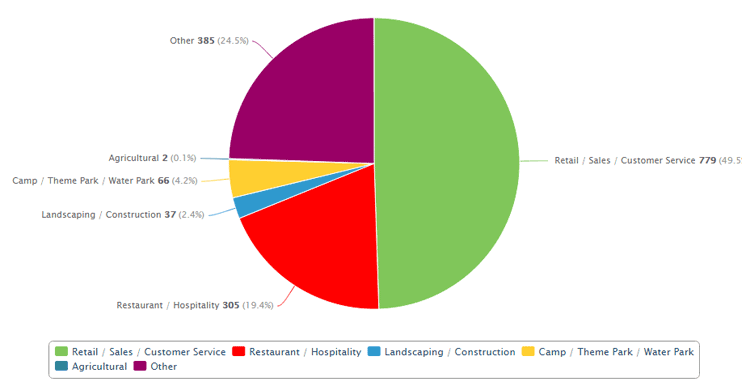 Question 5: How Much Are You Realistically Hoping Your Summer Job Will Pay?
Often, what we want to make and what the market allows don't always match up. So, for our fifth question in the poll, we asked people what they realistically hoped to make working summer jobs. The data we received fell right in line with that thinking, as 48.8% of people expected to make between minimum wage and $9.00 an hour. Another 22% expected to make $9.00 to $10.00 hourly, while less than a third of respondents hoped to realistically make more than $10.00 per hour. People's expectations appear to be realistic given the nature of summer jobs, which historically pay right around minimum wage or slightly above.

Question 6: How Long Do You Think it Will Take to Find a Summer Job?
Finding a job often boils down to one major factor: time. More often than not it's a numbers game, with the more applications you put out, the greater chances you stand of being picked for interviews. That said, our final poll question asked how long applicants think it will take to find summer employment. Apparently, we have some highly motivated job seekers out there. The survey showed over 40% of people think it will take two weeks or less to land summer jobs. Another 26% expect their job searches to last between two and four weeks. However, for as many hopeful respondents we had, we also had a number of people (14.6% of poll takers) say they didn't think they could find a decent summer job this year. Either there aren't enough jobs out there to satisfy everyone, which may be the case, or those 14.6% aren't willing to put in the legwork. Either way, the question provided us with some interesting data.

Final Thoughts
With the summer hiring season underway, it looks as though most job seekers are optimistic they'll find work before fall. Many of the people who answered the poll believe they'll find work quickly, but expect to make only minimum wage or a little more per hour. Given that most of our poll takers are between the ages of 12 and 23, the pay expectations reported in our survey make sense, even when you factor in job seekers 40 and older. The types of jobs sought after by the 40-plus crowd are usually in supplement to already well established careers.
It's also interesting to note the tie between the average education held by the people who responded and the types of jobs most people are looking for. With retail reigning supreme among desired job types, the data makes sense, as most retail, sales, and customer service jobs require no formal education or experience for hiring consideration.
A big thank you to the people that participated in the poll. We wish everyone looking for summer work, and employment in general, the best of luck locating and landing new jobs.