Apply Online! Book Store Job, BookSeller Employment Applications
Top employers in this category:


The Book Store Industry Today Aspiring book store workers find employment in an industry amidst exciting change and innovation. While book sales rapidly transition from paper to the digital format, retail book stores across the United States still manage to employ nearly 200,000 employees and continue to create new jobs to keep up with the ever-growing sale of books online and the demand for e-books. Though the industry shifts, statistics show book sales sat at an all-time high in 2007, library membership at an all-time high in 2009, and American adult literacy at an all-time high in 2010.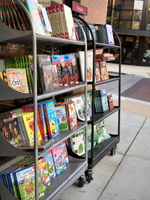 Get a book store job
Book Store Jobs Modern online shopping formats provide consumers the ability to shop for books from the privacy and comforts of home, which sets up widespread opportunities for work in the retail market for buying, shipping, and e-commerce. While many customers enjoy using online interfaces to purchase books, large amounts of patronage still takes place in classic retail settings. The continued demand for retail locations allows book store job hopefuls to find traditional stockperson, cashier, sales associate, and manager roles at companies such as Books-A-Million, Barnes and Noble, Half Price Books, Hastings, LifeWay, Powell's Books, and a plethora of small, independent book stores, as well.
Changes in Technology Stretch Book Store Employees Many of the larger retail book stores mentioned above successfully keep physical books in stock while also selling digital e-readers, HD tablets, and applications to enhance and promote the paperless reading industry. New technology in the book store industry not only creates new types of jobs but requires workers to become more versatile. On top of needing to know store layouts and provide book knowledge, bookseller associates must also become acquainted with new devices and applications in order to sell products and provide tech support services.
Average Salaries for Retail Book Store Workers Even with new innovations, retail bookselling jobs revolve largely around customer service. On average, book store associates make hourly wages between $8.00 and $11.00 in the United States. Annual salaries for entry-level book store positions typically range from $17,000 to $22,000. Book store managers recruit, train, and lead teams of employees, oversee retail operations, and implement marketing strategies to increase sales. Managers in the book store industry may earn yearly salaries as low as $30,000 and as high as $70,000, depending on job title, experience, store size, and location.
Common Book Store Job Descriptions
Bookseller -Booksellers provide attentive customer service to guests. Customer service begins with greeting customers upon entering and continues with asking questions to determine needs. Booksellers then provide assistance locating books within the store or ordering books if not in stock. Throughout the assistance process, booksellers remain courteous and build genuine rapports with patrons. When guests need to checkout, booksellers may jump behind cash registers to complete transactions. When not interacting with customers, booksellers organize shelves and keep shopping environments clean. Ideal candidates show strong appreciations for books, music, and cinema. Knowledge of different genres often benefits job seekers looking to obtain the role. Booksellers may work full-time or part-time, with shifts spanning morning, afternoon, or evening hours. Hourly pay for booksellers typically ranges between $8.00 and $9.50 an hour.
Cashier - Working strictly in the front-end, cashiers complete customer transactions on POS systems. Essential duties include scanning merchandise, handling cash, processing payments, and answering customer questions. In order to keep lines moving, cashiers must work with a sense of urgency while maintaining high levels of efficiency. Most book stores encourage cashiers to promote discount programs and set daily or weekly goals for signing up new gests. To reach target numbers, cashiers need strong communication skills to explain programs and salesmanship to entice customers to sign up. Cashiers often make between $7.50 and $9.00 per hour. Senior members of the cashier staff may earn head cashier titles, which provide increased pay and some management responsibilities. Regular cashiers typically work part-time hours, while senior cashiers serve as full-time employees.
Cafe Server - Cafes commonly operate inside of book stores, with the establishments in need of dedicated staff members to ensure proper cafe operations. Bookstore server stands as an essential role carrying a host of duties. Providing, quick, courteous service, cafe servers take customer orders, prepare food and drinks to specifications, and complete transactions on POS systems. Servers also perform a number of support functions, like light baking and restocking. As with all food-related jobs, cleanliness proves paramount. Servers need to clean equipment and display cases, and keep work surfaces sanitized at all times. Cafe servers usually make about $8.00 an hour. In most cases, cafe servers work part-time hours; however, full-time possibilities for scheduling also remain available.