Print Out brandsmart usa Application
Download a printable brandsmart usa employment form.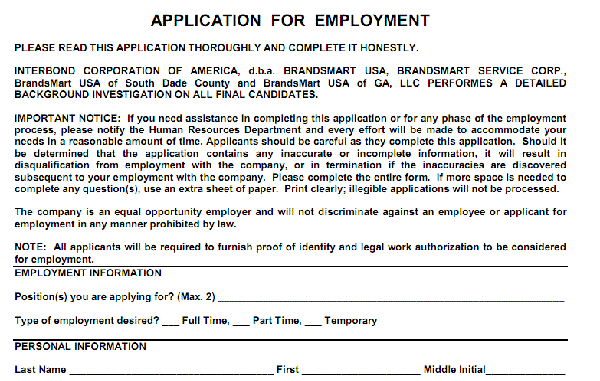 Benefits of Printing out the Brandsmart Application
Also available as an online form, the Brandsmart USA printable PDF application serves as a direct and personable way to apply for retail jobs with the electronics store. Workers looking to make sound, lasting impressions in person should download the forms, complete the information required, and turn the employment requests in manually to receive full review. Hiring personnel often take time to speak with candidates handing in forms onsite about prospective jobs, especially during slower business hours. Completing a PDF application and bringing the set of documents filled in and ready for review also communicates professional drive and organizational skills relevant to work in the retail industry.
How to Fill out the Brandsmart PDF Application
The Brandsmart PDF clearly states workers must write legibly or face possible expulsion from applicant pools. Individuals may attach separate sheets of paper to the documents if necessary to expand upon answers. Accuracy remains another vital component of completing the hiring request, as untruthful or misrepresenting information may lead to investigation and/or prosecution to the fullest extent of the law. Individuals hired under false pretenses and found guilty of falsifying information may receive immediate termination.
"Employment Information"
Job contenders begin the hiring forms by offering information about positions desired. Workers must list no more than two preferred titles in the line provided. The section also requires applicants to mark an X or check next to type of employment sought after, i.e. part-time, full-time, or temporary.
"Personal Information"
Data fields for basic contact information follow the Employment Information section. Beginning with last name first, the document wants given first names and middles names in addition to up to three aliases assumed within the last five years. Applicants need to provide the specific names assumed, the dates used, and the types of names, as the retailer recognizes job hopefuls with backgrounds in entertainment may go by stage names under certain circumstances.
The section continues with lines for addresses, phone numbers, indication of age over 18, and previous employment with Brandsmart. Former employees must enter positions held, where, when, supervisor names, and reasons for leaving. Check boxes and lines also appear for candidates to reveal any past application submissions to the retail store and friends or relatives currently working for the chain.
"Employment History"
A chart with spaces for four different work experiences appear in the section entitled Employment History. Workers must provide details for jobs held within the last ten years beginning with the most recent position and backward. The information necessary to complete the portion of the PDF includes company names, addresses, dates employed, supervisor names, and reasons for leaving. Applicants must also list the specific titles for each position held and a brief description of assigned duties. Below the chart sits a two-part question asking about past terminations or forced resignations and to explain the circumstances, if applicable. The section also asks for permission to contact the past employers provided as references. If a candidate chooses to not grant Brandsmart permission, the worker must state why.
"Education"
Applicants then fill out a lengthy section detailing academic experiences, skills, and related abilities. The section opens with a chart for high school, college, and vocation or trade school backgrounds. Workers list the names and locations of the institutions, whether graduated, and areas of study. Note the number of years completed, regardless of graduation status. A series of questions follows the chart ranging in theme from association with trade groups or professional organizations and military backgrounds to skills and abilities related to the position desired.
"Background Data"
The most pressing questions found in the Background Data section include inquiries into criminal convictions and possession of valid driving permits. Individuals with convictions of criminal offenses outside of traffic violations must list the infractions and provide details surrounding the circumstances of the cases. Lines also exist for workers to place information about currently pending criminal investigations. Prompts regarding driving privileges ask applicants to explain past suspensions, if applicable, and state the circumstances leading up to the suspensions.
Candidates conclude the hiring forms by initialing disclaimers and waivers and then signing and dating the applications on the appropriate lines. The first place workers initial reveals applications remain on file for no more than 30 days, followed by two places to initial following statements regarding permission to check job seeker backgrounds. Three final spaces for initials appear after information on misrepresentation of professional histories, agreeing to terms of employment by submitting the form, and a pledge to report any misconduct violating company equal opportunity policies.