Print Out Brio Tuscan Grille Application
Download a printable Brio Tuscan Grille employment form.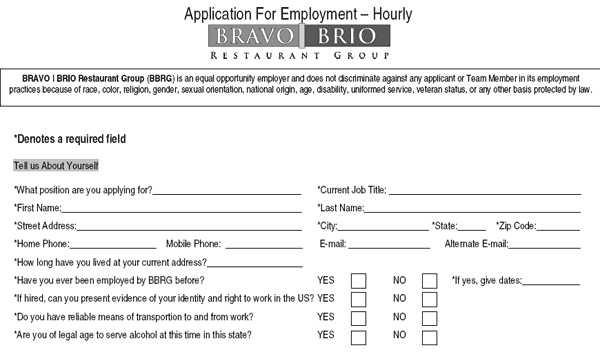 Benefits of Printing out the Brio Tuscan Grille Application
Featuring Northern Italian cuisine like bruschetta, pasta, steak, flatbread pizza, and seafood, Brio Tuscan Grille thrives in locations across the United States. Employment opportunities remain widely obtainable to enthusiastic individuals with impeccable customer service skills. Downloading a printable PDF and carefully filling out the paper form grants each aspirant extra attention from hiring leaders. In-person applicants showcase communication skills and allow hiring teams the ability to personally interact with potential employees.
Paper applications still remain common throughout the restaurant industry, especially in downloadable PDF formats. The personalized attention handing in paper applications gives job seekers offers chances to describe previous employment, work-related skills, and quality character traits. Contenders utilize the time spent with hiring managers to demonstrate the ability to fit into company cultures and become part of the team. Individuals dressed professionally and well-prepared garner more opportunities. Positive first impressions normally foster immediate interviews.
How to Fill out the Brio Tuscan Grille PDF Application
The printable application form should legibly describe basic details about candidates. Only write in blue or black ink and never scratch out mistakes. Instead, use whiteout or start over. The paper application allows prospective team members unlimited amounts of time to complete all blanks; however, the average applicant takes 30 to 40 minutes to finish. Required fields possess a star denotation.
"About"
Sporting the Bravo Brio Restaurant Group logo, the application form begins with a short disclaimer about equal opportunities. The first category inquires about personal details by exploring interests and contact information. Questions into topics like position of interest, current job title, last and first name, street address, city, state, and zip code, home and mobile phone numbers, email address, and length of residency at current address appear on submissions. A list of Yes and No inquiries touch on if ever employed with the company previously, ability to prove right to work in United States, reliable transportation, and standing of legal age to serve alcohol.
"Availability Information"
The availability of applicants stands very important, and the section should gain a good amount of attention. Begin by listing available start dates, followed by describing the amount of notice necessary to leave current employers. Next, aspirants check Yes or No to possessing regularly scheduled obligations potentially causing individuals to miss work. A chart follows and asks for hours and days accessible Monday thru Sunday.
"Employment History"
Short instructions prompt job hunters to provide information for three former employers, assignments, or volunteer activities (if lacking employment). Contenders start with the most recent positions held and enter the name, job title, dates, location, supervisor, phone number, reason for leaving, and eligibility for rehire. Aspirants should repeat the information for each employer listed. For more space, individuals should attach a separate piece of paper. Underneath the three employers, a single line appears for potential workers to list highest levels of education achieved.
"Additional Information"
In the section entitled Additional Information, job hunters provide insight into past felonies and work histories. The first question, Yes or No, requires contenders to answer if ever convicted of a felony. The next two Yes or No inquiries touch on if past jobs may serve as references and if ever discharged from a position. The last question of the section provides candidates two lines to list any work-related skills.
"Statement"
Paragraphs highlight pertaining facts such as voluntary employment agreements, legality surrounding accuracy of information, and proof of identity necessary for employment. After understanding the entire set of statements, workers may choose to accept or decline the agreements with signatures and the date.