Print Out Brusters Ice Cream Application
Download a printable Brusters Ice Cream employment form.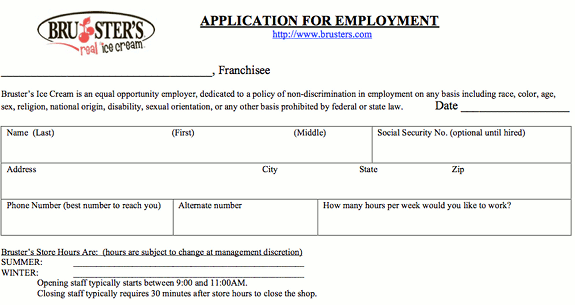 Benefits of Printing out the Bruster's Ice Cream Application
Printable PDF applications represent easily accessible and highly navigable ways to declare candidacy for employment. Workers looking for alternative measures to submitting electronic hiring forms should utilize the downloadable PDFs available through Bruster's. The applications provide ample time to gather materials, complete the documents, and then set up ideal circumstances to discuss topics related to positions for hire with management when turning in submissions. Ice cream shop job applicants find physical, paper applications especially useful for displaying extroverted attitudes and adept customer service skills due to the in-person meetings required to hand over the forms.
How to Fill out the Bruster's Ice Cream PDF Application
Candidates encounter basic sections regarding contact information, employment history, and academic backgrounds on the PDF form in addition to brief questionnaires. Using blue or black ink, workers read through the materials and write in the necessary information on the appropriate lines. Inputting every detail should take between 20 and 30 minutes. Applicants may want to spend more time on the documents to ensure accuracy and truthfulness of information.
"General"
An opening segment asks for a wide-range of information, including names, addresses, phone numbers, Social Security numbers, and hours desired per week. Candidates must also leave daily availability on the chart provided. Include earliest hours and latest hours available for each day. A line beneath the chart asks for candidates to enter in any commitments potentially hindering availability; however, workers may opt against revealing such details in light of keeping religious affiliations, races, ages, and genders confidential.
Moving forward, individuals indicate standing above or below 18 years of age, ability to perform the essential duties of positions desired, and mark possession of reliable transportation. Workers also circle Yes or No for the ability to prove legal right to work in the United States.
"School Most Recently Attended"
A brief section appears for job hopefuls to write in details surrounding recent academic affiliations. Place the name, location, primary teacher or counselor, grade completed, grade-point average held, and extra-curricular activities for the school. Workers must also indicate whether graduated and whether or not currently enrolled.
"Personal References"
Another chart appearing on the Bruster's Ice Cream printable PDF asks for three references. List the references descending vertically and input the names, addresses, and telephone numbers for each person. Avoid using family members or friends and opt for professional contacts instead.
"Most Recent Job"
The direct hiring form also calls for specific details on most recent jobs held, which may include current positions. Before entering in any information, candidates must sign off granting the ice cream chain permission to contact the current or former place of employment. Following Yes or No answers, workers provide the name, address, phone number, job title, supervisor name, dates employed, pay rates, and reasons for leaving the position. Brief questions also appear in the section. Applicants must respond to prompts about reasons for seeking employment with Bruster's, previous employment with the chain, and personal definitions of customer service. An even smaller section following Most Recent Job asks for additional skills or abilities job hunters possess pertinent to positions desired.
"Questionnaire"
An employment questionnaire follows. Workers must answer the questions revealing basic math abilities to gain full hiring review. Take as much time as necessary to complete the section. Six questions appear in total.
"Please Read Carefully before Signing"
Adhering to the prompt in the section title, Bruster's printable PDF applicants encounter a handful of legal statements regarding rights upon hire, dissemination of information, and additional methods of screening prospective employee backgrounds. Use the time to read over any and all information provided on the documents and then sign and date the form at the bottom. Signatures certify the information as truthful, accurate, and binding.