Print Out Buffalo Exchange Application
Download a printable Buffalo Exchange employment form.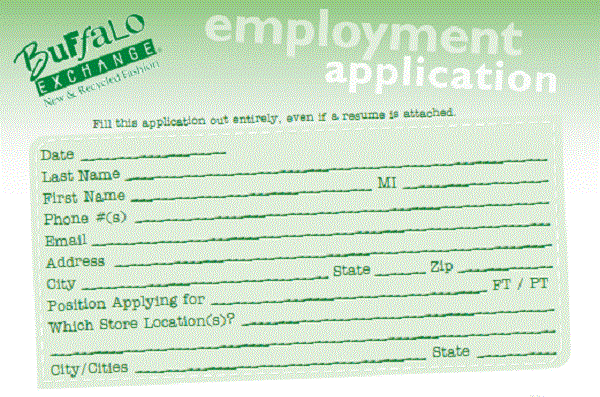 Advantages of Buffalo Exchange Print Applications
Buffalo Exchange is a fashion retailer that buys, sells, and trades new, vintage, and used clothes. The environment-focused company offers both online and printable applications. Show real interest in the job and similar green values by printing the form double-sided to save paper and handing it to managers face to face.
In-store job seekers have some advantages over online candidates. For fashion retailers, pulling off a stylish yet professional appearance is key, yet impossible to show with online applications. Meeting supervisors also allows applicants to ask questions about the hiring process, company, or position.
Completing the Buffalo Exchange PDF Application
Applicants are instructed to fill out the three-page form entirely, even if they choose to attach resumes. Remember to print words clearly in blue or black ink.
Personal Information
The form's first section requests basic facts like date, name, contact information, and the positions or stores job hopefuls would prefer. Make sure to circle whether full-time, called FT on the application, or part-time, called PT, is desired.
Availability, Skills, & Buffalo Exchange Experience
The next segment asks whether applicants have driver's licenses, are at least 18 years old, and can legally work. Candidates then list skills or qualifications relevant to the position they want. Availability information like work start date and scheduling preferences come next.
The company also inquires whether applicants are past store employees, or have shopped there before. List any present Buffalo Exchange workers who can provide positive references here, if possible. Finally, describe relevant hobbies and activities.
Work & Education Histories
In the education section, write contact and graduation information for high schools, colleges, or other institutes attended. Applicants should circle Y for "yes" or N for "no" for current school enrollment. Under work experience, give facts such as job titles and duties, dates employed, contact information, pay, and reason for leaving.
Next, candidates should share past criminal convictions besides minor traffic violations or marijuana convictions older than two years for California residents. Attach explanations on another piece of paper. Circle the Y option to show understanding of the position and application. Finally, read additional employee notices. Sign and date on the blanks to complete the form.