Print Out Cato Application
Download a printable Cato employment form.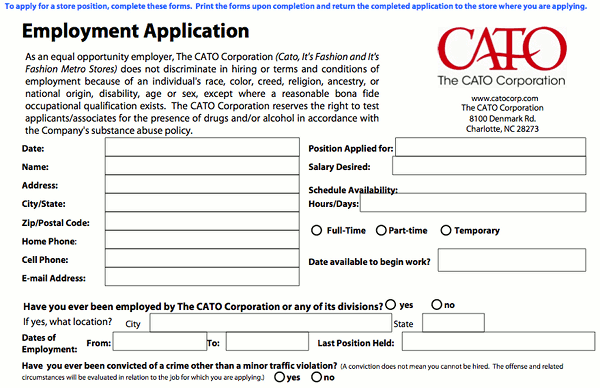 Why Print Cato Applications?
Cato is a women's fashion retailer with junior, misses, and plus size clothing. The company offers printable applications online and asks entry-level job hopefuls to return completed forms to local stores.
After entering the store, applicants should ask to speak to a manager. Meeting supervisors not only lets candidates know applications are received, but also allows them to show off the professional but fashionable style necessary for clothing retail. Use this time to ask questions about the hiring process, job, or company.
Completing PDF Applications for Cato
Applications can be filled out by typing information in the blanks provided or by printing neatly with a pen. The form reminds candidates that protected information like race, religion, disability, or gender revealed in the application will not affect hiring.
Personal Information
Begin the form with date, name, contact information, position applied for, and desired salary. Choose full-time, part-time, or temporary work, then list schedule preferences. If candidates previously worked for the store or its divisions Versona Accessories, It's Fashion, or It's Fashion Metro, provide the locations and dates. Share criminal history, legal working status, and any relatives working for Cato.
Education and Employment History
In the education section, list any schools attended as well as years completed and degree. Fill out relevant skills, certifications, or training, as well as familiarity with software and computer operating systems. Under employment history, list up to four past jobs. Include facts like supervisor, employment dates, contact information, duties, and reason for leaving.
References and Drug Test Consent
Next, give three references besides relatives or employers. Applicants should choose people who know their work ethic, teamwork capabilities, and communication skills such as co-workers, volunteer coordinators, club leaders, or teachers. Provide contact information for each. Then, sign and date the application electronically or by hand.
Finally, read the information about drug testing on the last page. Job seekers should print their names, then sign and date the form if they agree to follow the explained rules.