Print Out Champs Sports Application
Download a printable Champs Sports employment form.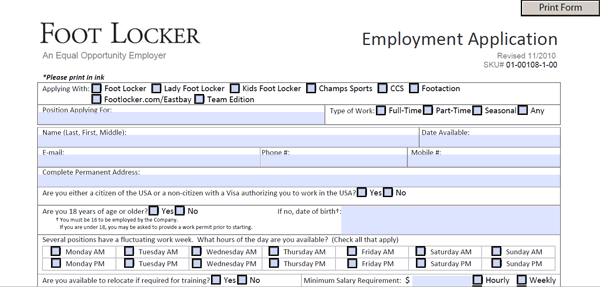 What Should I Do with This Form?
Although a bit old-fashioned, handing an application directly to a hiring manager gives job seekers an opportunity to make a good first impression. Download and print this form to begin a career at Champs Sports. Also, use the site to look for local jobs and access instructions to apply online.
Why Apply at Champs Sports?
As one of the largest athletic retailers in North America, Champs Sports has many locations in malls. Stores offer full-time, part-time, and seasonal jobs. Entry-level positions, like sales associate, are readily available through submitting an application.
Filling Out the Champs Sports Application Form
It is important to note that Champs Sports job applications are Foot Locker forms as well. Check a box at the beginning to select the correct brand. Other options include Lady Foot Locker, Kids Foot Locker, and Footaction.
Personal Information
On the rest of the application, provide basic facts. This contains name, address, and phone number. Answer the next several questions by marking the appropriate boxes. These regard work eligibility, age, purpose for applying, plus whether seeking full-time, part-time, or seasonal employment.
Availability
The following chart is for available times and days to work. Fill it in accurately. Indicate any past jobs with Champs Sports or its affiliates, specialized Armed Forces training, languages spoken besides English, and felony or theft-related convictions.
Employment History
Here, mention the three most recent work experiences. Confirm the company names, addresses, and phone numbers. Salary earned and dates of the job are necessary too. Be sure to add supervisors and reasons for leaving.
If candidates have any gaps in employment, minus schooling or military deployment, explain those on the back of the application.
Educational History
There is space for high school, college, and any type of education obtained by the job hopeful. Detail each, with grades and degrees completed, to finish this section.
References
Before signing of the application, write in two business references. They ought to be non-relatives known from professional settings. List full contact info, along with occupations and years known.
Completing the Champs Sports Application
In the final part of the application form, there are nine points regarding employment. Read them carefully. A signature verifies that the candidate agrees to the company's terms.
Once the Champs Sports application is complete, return to a store and hand it in personally. While inside, ask for a manager to get an extra leg up on the hiring process.