Print Out Cheddar's Casual Cafe Application
Download a printable Cheddar's Casual Cafe employment form.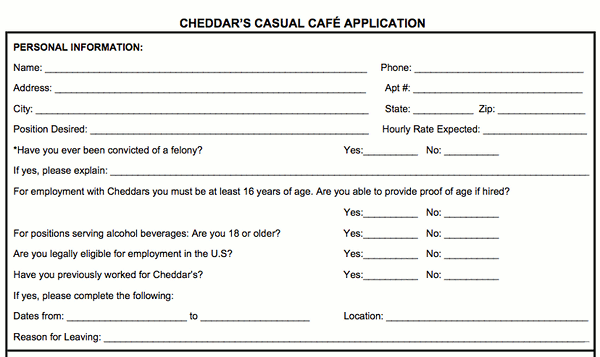 Why Print Out Cheddar's Casual Cafe Application Forms
Cheddar's offers printable job application forms for candidates to fill out and turn into stores. By printing out the PDF and physically handing it in, applicants can meet supervisors and express interest in working for the company. Doing so in person also proves to hiring managers that candidates take the process seriously and are eager to have their submissions approved.
Completing Cheddar's Casual Cafe PDF Application
The two-page form covers contact information, past and current education, and prior work experience. The second page goes over pre-employment policies. The entire form can be completed in less than an hour. Filling out the form in blue or black ink with readable handwriting is highly recommended.
Personal Information
Cheddar's PDF hiring forms ask for full names, phone numbers, and addresses of the applicant. Use current addresses and phone numbers that are easiest to reach you. The application continues with asking the position candidates desire and hourly rates expected.
Eligibility to Work
The next section requires applicants to answer "Yes" or "No" to the following questions. First, the application asks if contenders have any convictions or felonies and reasons for having such. Then, job seekers must be at least 16 years old and state "Yes" if able to provide proof of this.
Furthermore the form asks if job hopefuls are 18 years or older to determine if they can serve alcoholic beverages if hired. Next, those applying must state if they can legally work in the U.S. Then, the application prompts candidates to say if they have worked for the business before. If answering "Yes," those applicants must state how long they worked there and the reasons for leaving.
Education and Employment History
Now candidates list their education information in the provided chart. This includes the names of schools, areas of studies, and degrees. Then applicants must do the same for past employment, if relevant. Here hopefuls can mention past jobs, positions, supervisor contact information, and dates employed at those places.
Schedule and Signature
Nearing the end of the form, the next section requests job seekers to list their availability throughout the week as well as how many hours they can work during this time. Be sure to fill in accurate times, including when you can start and end shifts. Once applicants have reviewed their information and checked each section for accuracy, workers sign and date the bottom of the form.
Pre-Employment Statement
On the last page, Cheddar's outlines important information that all job seekers should read through. It relates to company policies and federal hiring regulations and laws. After reading this page, candidates are prompted to sign and date one last time.