Apply Online! Find Daycare or Child Care Employment Applications & Forms
Did you babysit a lot as a teenager? Do you love watching children play? If you'd like to make a difference in children's lives, a daycare career is right for you. Daycare centers need workers like you to watch children, prepare snacks, and keep kids occupied while their parents are at work. There are plenty of employers in the child care industry. Bright Horizons, Goddard School, Kindercare, and many other child care companies are hiring new employees to staff daycare centers across the country.
Basic Skills and Requirements: The child care industry represents an ideal setting for employment seekers, both entry-level and professional, to exercise teaching, assisting, planning, and administration abilities. According to the Bureau of Labor Statistics, the child care industry employs more than 1,000,000 workers, and trends point toward a 14% employment rate increase between 2012 and 2022. Basic job titles like child care worker and teacher's assistant do not typically necessitate college degrees; however, applicants must demonstrate high levels of responsibility and organization. Workers may find additional entry-level positions in child care as cooks, drivers, custodians, and secretaries. Facility director and teacher titles may necessitate completion of higher education, health and safety certificates, and continued yearly training in child care industry standards.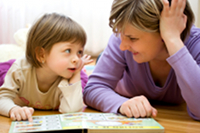 Jobs in Day Care
Legal Hiring Age and Other Laws: State laws greatly influence the qualifications applicants must possess in order to work at child care facilities. Many states demand entry-level workers possess high school diplomas and meet minimum age requirements of 18 to obtain child care worker and teacher's assistant positions. However, some states allow institutions to hire on associates as young as 16 or even 14 years of age. Depending on state legislation, employees may need to obtain basic CPR or first aid certifications before commencing work at child care centers. Stipulations and processes vary, but all states require applicants submit to pre-hire background checks. Once hired, required tasks involve supervising, interacting, and tending to the general physical and emotional needs of infants and children.
Child Care Responsibilities: As mentioned above, child care industry professionals such as facility directors and teachers encounter longer lists of qualifications. Teachers must hold education degrees in order to create lesson plans to adequately meet the physical, mental, and emotional needs of children. Teachers may also need to possess health and safety certifications in case of emergencies. Facility directors and administrators maintain responsibility for entire institutions. Managerial tasks such as hiring, firing, training, and scheduling prove just a few of the duties industry professionals handle. Upper-level workers also oversee entire operations, ensuring buildings meet safety standards, approving curriculums, instituting new programs, and handling customer issues.
Average Working Conditions: Child care jobs often prove strenuous, as workers stand on foot for long hours at a time, stoop to pick up and carry children, and exercise alertness throughout shifts. Overtime also proves common for full-time workers in the child care industry, as parents sometimes arrive late to pick up children because of work conflicts or other unforeseen events. Though child care jobs pose arduous duties, employers typically offer discounts on services as well as healthcare and future planning benefits for employees. Child care centers generally reward part-time, entry-level workers with hourly pay between minimum wage and $10.00. Some centers offer entry-level associates full-time work schedules with salaries spanning as low as $19,000 and as high as $29,000 per year. Full-time industry professionals often enjoy salaries ranging from $30,000 to $50,000 depending on job title, experience, location, and size of the institution.
Daycare Job Descriptions
Teacher Assistant – Also known as a teacher aide, a teacher assistant typically remains an employee without a degree in early childhood education but assists teachers with daily lesson planning, implementation of such lesson plans, and interacting with both children and parents on a daily basis. Teacher aides retain responsibility for properly supporting child development, utilizing curriculum correctly, and working in teams in order to provide the best care possible. Teacher assistants must also actively meet both state and federal guidelines in order to work with children, such as health and safety certifications and passing numerous background checks and drug screenings. While teachers typically need to possess a minimum of an Associate's degree, teacher assistants generally only need a high school diploma or equivalent. Most states require assistants to show progress toward higher education, though achieving further degrees may not prove necessary in order to qualify for hire. Teacher assistants tend to make between minimum wage and $10.00 an hour to start, with the possibility of earning more with tenure, additional certifications, and further education.
Driver – Drivers safely transport children in either vans or buses between locations necessary to complete daily routines, such as from the center to school locations, field trips, and on rare occasions, to homes. Employees must possess a valid driver's license and a clean driving record, an understanding of all state and local regulations, and typically must also possess current training in first aid and CPR. Drivers should hold a high school diploma or equivalent and typically must stand at least 21 years of age to meet hiring criteria. Usually offered as part-time or seasonal employment, drivers may earn up to $13.00 per hour.
Cook – The cook retains responsibility for preparing nutritional meals, regularly in concordance with state and federal food prep guidelines. An employee in the cook position may also need to possess a general understanding of making meals according to plan, within the company budget, and typically in large portions. Additional responsibilities may include maintaining inventory, cleaning kitchen and dining areas, and managing waste materials properly. Cooks should hold a high school diploma and stand at least 18 years of age to receive consideration for hire. Kindness, caring, and energetic personalities tend to fill positions as cooks well, as interacting with children, staff, and parents may occur with regularity. Flexibility in schedule may also assist candidates in standing out above other job seekers, as cook positions may fall into seasonal, part-time, and full-time categories depending on need and by individual company discretion. Cooks may earn minimum wage to start, with the possibility of earning more over time, experience, and certification.