Print Out Cinemark Application
Download a printable Cinemark employment form.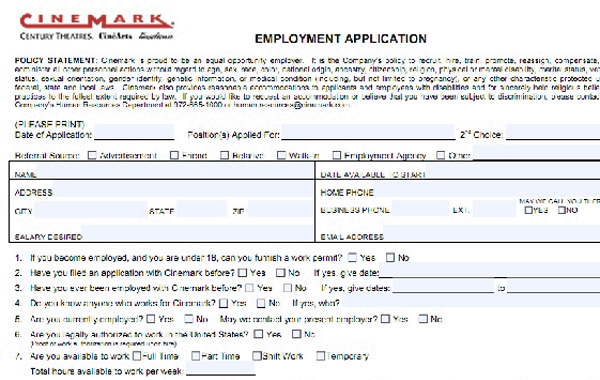 Benefits of Printing out the Cinemark Application
National movie theater chain Cinemark offers a downloadable PDF version of the company application for the convenience of job seekers. Companies allowing candidates the ability to print out and complete hiring forms at home provide workers unique opportunities to prepare applications thoroughly and invest more time on the information required. The application allows workers to fill in the data electronically, as well. Candidates steadfast in completing the documents by hand should use blue or black ink.
Printing out the Cinemark application bodes well for individuals with excellent customer service skills. Job seekers must hand the forms in personally, which requires face-to-face interactions with prospective coworkers and managers. When handing in hiring forms, employment hopefuls should ask to speak with management and spend a few brief moments asking questions about positions desired. Choose slower times of day, typically around opening hours, to avoid becoming a nuisance or hindering potential supervisors from carrying out duties. Candidates may receive on-the-spot interview consideration or even job offers.
How to Fill out the Cinemark PDF Application
Prospective employees should allot between 30 and 40 minutes to complete the application. Individuals with fewer credentials, such as workers with no job histories or education backgrounds, may take less time filling out the hiring forms. Use discretion and great care when providing information. Managers often cross-reference information, and data misrepresentative of candidates or blatantly inaccurate may result in dismissal from applicant pools and possible subjection to legal penalties, depending on the severity of the infraction.
"Contact Information and History"
The first page of the Cinemark PDF application asks for basic contact information, such as name, address, phone number, and email as well as position desired, expected salary, referral sources, age, ability to obtain a work permit if under 18, and prior history applying for jobs with the chain of theaters. Information regarding previous employment with the entertainment company include friends or relatives currently working for the movie theater. Applicants previously employed by the nationwide chain must cite where, when, and for how long.
Applicants also respond to questions about current employment, if applicable, legal right to work in the United States, permission to contact current employers, and availability, i.e. full-time, part-time, or seasonal. Below the question regarding desired employment status sits a chart where candidates must enter in hours available each day of the week. Following the chart, the application asks a few more questions, with inquiries into willingness to travel, on-call or lay-off status, ability to perform expected job duties without special aid, possession of valid driving permits, driving permit numbers, and circumstances surrounding past expulsions, terminations, or resignations from previous positions. Candidates must also shed light on criminal histories in the section, if applicable.
"Education"
The second and final page of the printable Cinemark job application offers hiring personnel glimpses of candidate education histories. Broken down into separate data fields, the Education section provides spaces for the names of high schools, colleges, and other vocational institutions attended. Workers must also enter in the addresses of each location, diplomas or degrees obtained, courses of study, and indicate full-time, part-time, or other academic statuses.
"Prior Employment"
Another group of charts featuring several data fields appears in the Prior Employment section. The final portion of the second page, Prior Employment asks job seekers to provide information for up to three separate positions held currently or previously. Applicants need to start out with the most recent jobs held and work backward. A brief introduction informs candidates of the ability to attach supplemental details via resumes or other neatly organized documents along with the actual applications. Employment hopefuls must list the names, addresses, phone numbers, dates worked, positions, duties, supervisors, hourly pay/salary options starting and ending, and reasons for leaving each job. A single line following the three charts provides space for candidates to expand upon relevant and related abilities, if desired.
"Disclosure and At-Will Employment"
Applicants signing off on the information provided automatically grant the movie theater the ability to conduct background checks into criminal and professional histories. The background checks also include discovery of moving violations. A brief statement regarding the definition of at-will employment appears below the disclosure on background checks. The statement reveals the chain may terminate an employee at any time without provocation. Signing the form certifies candidates received and read through the information provided in the two sections as well as authenticating the data listed throughout the application. Workers must also date the forms before turning the documents over to management.