Print Out Claire's Application
Download a printable Claire's employment form.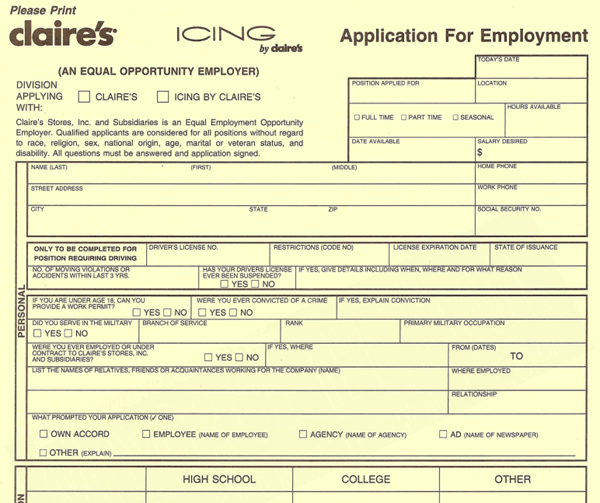 What Should I Do With This Form?
Fill out the application form using these directions. Then, take it in person to your local Claire's. Otherwise, learn more about applying online here. Or, search for jobs near you.
Applying at Claire's
Claire's is a retail store that focuses on girls' jewelry and accessories. The brand also operates Icing, which targets all ages. Part-time and full-time jobs are available with the company in stores around the world. Most positions are entry-level and need no experience. Begin an application by downloading it from the above image.
Applicants can show their personality to managers when submitting a Claire's application. The form is one page and asks about education, legal work status, and driving history. Hopefuls can record details regarding previous jobs on another piece of paper.
Completing Claire's Applications
The Claire's applications are quick and easy to fill out. Job seekers should use black ink and print legibly. Make sure to get all materials ready to complete the form. Candidates can attach extra sheets of paper for specifics if necessary.
Personal Information
The largest part of the Claire's application relates to personal info. Applicants will begin by stating their desired position, location, and availability. Hopefuls may fill in a box to submit a salary request as well.
The job application then asks for a name, address, phone, and social security number. There is also a category for driving records, but it is only necessary for delivery positions.
Potential hires must answer questions related to criminal and military history. Applications also ask for legal working status. Candidates then answer if they or anyone they know have worked at Claire's. The last question in this section asks how the person found out about the job.
Education and Application Release
This portion tells the employer the extent of an applicant's education. The candidates fill in the number of years they attended each school. Because many positions do not need experience, a degree is not always necessary.
When finishing a Claire's application, read over all answers before submitting. Responses should be true and complete. Then, sign and date the bottom after reading the release. Forms that do not have signatures are invalid. Once done, take the application to a local store and submit it to the hiring manager.