Apply Online! Coffee Shop Job Employment Applications
Top employers in this category:

---
Coffee Shop Jobs: A 2013 research study revealed more than 200 million adult Americans, out of 241 million total Americans 18 and over, drink coffee on a somewhat consistent basis. The figure translates into 83% of the current adult population. In 2012, the National Coffee Association polled Americans and determined roughly 78% of the adult population in the U.S. drinks coffee. The difference between 2012 and 2013 figures shows a 5% growth in consumers, which means growth opportunities for the industry and for workers looking to break into the coffeehouse line of work. Every day, the average coffee drinker consumes a little over three, nine-ounce servings and pays somewhere in the ballpark of $1.40 per cup.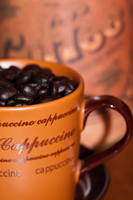 Work in a coffee shop
Places to Find Cafe Jobs: The coffee shop industry represents a multi-billion dollar enterprise providing thousands of job opportunities to motivated and dedicated individuals. Coffeehouse chains range in size from smaller yet still national brands like Peet's Coffee & Tea to worldwide name brands such as Starbucks and Dunkin' Donuts. Most communities throughout the United States have at least one coffee shop location within city limits, especially in major metropolitan areas. New York City boasts almost 600 coffee shops alone.
Nationwide Opportunities: According to ABCNews, Starbucks employs approximately 135,000 baristas nationwide. With dozens of cafe chains set up throughout the country, entry-level job seekers and seasoned professionals alike find little-to-no resistance in gaining employment within the budding industry. The most readily accessible job titles include barista positions, which most coffee shops offer as part-time, entry-level opportunities. Starting pay for barista positions varies by brand but generally falls between minimum wage and $10.00 per hour. Certain cafe chains provide comprehensive work benefits packages to team members, as well. Job benefits may include healthcare options, annual bonuses, discounted drinks and food, and flexible scheduling. Complimentary or discounted uniforms also represent fairly standard employee benefits at coffee shops throughout the U.S.
Work Settings and Expectations: Typical workdays include early hours and heavy customer traffic for brief, indeterminate periods of time. Holidays and other local or regional events may cause patronage to fluctuate. Many locations establish regular customers who frequent certain cafes with regularity. Coffeehouses often promote library etiquette, where guests keep commotion to casual conversation between friends or while others work or relax quietly and alone. Job seekers looking for work in the coffee shop industry should possess friendly, outgoing, and personable attitudes capable of retaining customers and engaging patrons in idle or even in-depth conversations. Individuals who enjoy working with the general public and take personal interest in coffee, food prep, or hospitality generally receive excellent review during the hiring process.
Detailed Coffee Shop Job Descriptions
barista | cashier | baker | manager
What Are the Responsibilities of a Coffee Shop Barista?
In coffee shops, baristas work behind the counter. Baristas prepare the ingredients to make coffee and other beverages for customers. Then, baristas make each beverage according to customer preferences. Customization and variety make up a large portion of the job. Many coffee shop baristas also need to perform other customer service duties and may serve as a cashier, server, or other cafe worker. Along with other coffee shop jobs, baristas gain great exposure to retail and foodservice operations.
What Are the Requirements for a Coffee Shop Barista Job?
Many coffee shops provide baristas with extensive on-the-job training programs. Because of the many varieties of coffee drinks, baristas must learn a large amount of recipes. While not vital, more popular recipes should be memorized in order to fill orders faster. Baristas need to work well in a fast-paced environment, considering the current popularity of coffee shops. Many job seekers take employment as a barista on a part-time basis and gain the ability for flexible scheduling. Typically, workers 16 and over may apply for barista jobs at coffee houses.
How Much Can a Coffee Shop Barista Make?
On average, starting pay for coffee shop baristas rests between minimum wage and $9.00 an hour. Popular states for cafe baristas include California, Florida, New York, Ohio, and Texas. Massachusetts, Nevada, New Jersey, New York, and Pennsylvania represent some of the most profitable states for coffee makers nationwide. Barista wages vary depending on such factors as experience, job location, and employer. The overall national average salary for coffee shop baristas stands at $19,000 per year, or around $9.50 an hour.
watch Starbucks barista video:
---
What Are the Responsibilities of a Coffee Shop Cashier?
The primary responsibilities of a coffee shop cashier consist of greeting customers, ringing up purchases, and answering questions about products and merchandise. Some coffee shops require cashiers, or team members, to assist in preparing food and drink orders. Additional job duties include cleaning and organizing work space, printing receipts, and taking inventory. Coffee shop cashiers frequently work with espresso machines, percolators, cash registers, computers, hot plates, and many other kitchen-related appliances. Training for coffee shop cashier jobs takes place on site and generally involves visual demonstration and hands-on instruction.
What Are the Requirements for a Coffee Shop Cashier Job?
No real qualifications exist for coffee shop cashier jobs. Typical minimum age requirements generally reserve coffee shop jobs for workers 16 and over. Some cafes may insist only individuals 18 and over may apply online for cashier jobs. Ideal candidates possess excellent interpersonal skills, friendly personalities, and professional, courteous attitudes at all times. Previous experience as a retail cashier or work history in the coffee shop industry may prove advantageous during the hiring process. Interested workers should possess basic computer skills to operate cash registers. Additional job qualifications vary by location and employer.
How Much Can a Coffee Shop Cashier Make?
In entry-level jobs, cashiers typically start out making starting pay around minimum wage. Minimum wage varies state to state but generally falls between $7.00 and $9.00 an hour. Coffee shop cashiers generally receive pay increases with experience gained. The average cafe cashier earns around $9.00 per hour, or a yearly salary of roughly $18,000. More experienced coffee shop cashiers may earn in excess of $25,000 a year or $12.50 an hour. Alaska, California, Oregon, Washington, and the District of Columbia represent the most profitable areas for coffee shop cashiers.
watch Dunkin Donuts cashier video:
---
What Are the Responsibilities of a Coffee Shop Baker?
Coffee shop bakers, also sometimes called cooks, work primarily in kitchens. Basic job duties consist of measuring, mixing, molding, and baking food items. Depending on location and employer, bakers prepare a wide range of food products, including donuts, breads, bagels, muffins, and other pastry items. Other baker job duties may include quality assurance checks and implementation of health and safety standards and guidelines. Most working conditions involve small quarters and large machinery. Bakers typically use ovens and large refrigeration units. Most baker jobs involve on-the-job training, including visual demonstration and hands-on instruction.
What Are the Requirements for a Coffee Shop Baker Job?
Entry-level baking jobs generally require little to no experience for employment consideration. Lead positions or head baker jobs may require applicants to have previous experience in the industry or as managers. Bakers must work quickly and oftentimes independently. Ideal characteristics of baker candidates include hardworking and self-motivated personalities. Minimum age requirements generally only allow workers 16 and over to be considered for baking positions. Some coffee shops only hire workers 18 and older for baker jobs. Experience as a cook or baker may prove advantageous during the hiring process. A high school diploma also proves beneficial, especially for employees looking to further a career in the coffee shop industry.
How Much Can a Coffee Shop Baker Make?
Average starting pay for coffee shop bakers sits around minimum wage, which varies from state to state. The average baker earns a salary of $24,000 a year, or roughly $12.00 per hour. More experienced bakers may make upwards of $36,000 per year. The highest paying states for coffee shop baking associates consist of Alaska, Massachusetts, Nevada, New York, and Oregon.
---
What Are the Responsibilities of a Coffee Shop Manager?
At coffee shops, the general manager takes charge of other employees and the overall operation of the business. A cafe manager supervises the hiring, scheduling, training, and disciplining of all employees. Additionally, many coffee shop managers oversee financial aspects, such as budgeting, inventory, and payroll. In some coffee shops associated with a large chain, a manager must implement certain company procedures and deal primarily in predetermined, branded merchandise.
What Are the Requirements for a Coffee Shop Manager Job?
Managers in the coffee shop industry must usually possess some previous work experience in either customer service or management. Experience helps a manager lead employees and solve problems. Cafe employees should look to the general manager for guidance and support in the workplace. Along with experience, coffee shop managers must also usually be at least 18 years of age. Many cafes insist managerial applicants possess a high school diploma or GED.
How Much Can a Coffee Shop Manager Make?
Average earnings for coffee shop managers start at around $14.00 to $16.00 an hour. Depending on employer and job location, experienced managers may earn much higher pay. Many cafe managers must work over 40 hours per week and receive salary compensation. The average coffee shop general manager earns a salary of $45,000 a year, or roughly $19.00 per hour. Some of the more popular states to find coffee shop manager jobs include California, Florida, Illinois, New York, and Texas. Cafes in Delaware, Massachusetts, Nevada, New Jersey, and Washington traditionally offer store managers higher wages.
watch Starbucks shift supervisor video:
For more details on pay rates, consult our Coffee Shop Salaries page.