Apply Now: Cosmetics Sales Jobs, Employment Applications Online
If you love working with beauty products, a job in the cosmetics retail industry may be your perfect employment option. Cosmetics retailers need to hire associates to fill part-time vacancies and full-time careers. Whether you're intimately familiar with makeup products or you're a cosmetics novice looking to gain retail experience, cosmetics retailers are hiring nationwide.
Cosmetics at a Glance: Over 700,000 jobs exist in the cosmetics market. The need for knowledgeable workers and trained stylists continues to increase corresponding with the demand for advanced hair treatments. The industry currently grows at a rate between 10% and 15%, as increasing population numbers lead to more people who require cosmetics needs met.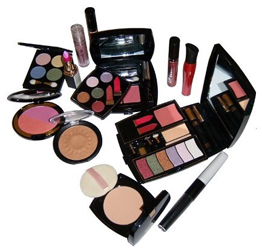 Cosmetics job opportunities
Positions in Cosmetics: Job hopefuls may apply for entry-level retail positions at cosmetics retail outlets, and more experienced workers often seek management postings. Barbers, hairstylists, cosmetologists, and manicurists provide beautifying services to customers. Photographers and models also may find work in the cosmetic field, as most companies advertise products or services through visual media.
Job Duties: Retail employees and managers need familiarity with a wide variety of cosmetics products, both for sales and reference knowledge. Customers often expect employees to help find the most ideal items. Workers must show patience in dealing with the needs and demands of patrons. Employees working as barbers or in related professions profit from the ability to share similar product and fashion insights with customers, while also needing the skills to consistently perform high-quality cosmetic work in timely and efficient manners.
How to Get a Job in Cosmetics: Customer service skills place definitive value on potential employees, since patron interaction and satisfaction comprises a major component of cosmetics. In addition, creativity and mindfulness of aesthetic principles may benefit cosmetics aspirants, especially relating to the awareness and application of current styles and trends. Some companies prefer cosmetics job hopefuls to hold high school degrees or equivalents. Generally, to become barbers or hairstylists, applicants must stand at least 16 years of age. Special schools exist to prepare barbers and cosmologists and typically offer training programs lasting less than a year. Employers expect applicants to possess appropriate certification for the corresponding positions.
Salary and Benefits: Retail employees normally make around $10.00 per hour, while the median pay for barbers, hairstylists, and cosmetologists stands at $10.95 per hour. Many barbers and hairstylists work for independent operations, which do not offer employee benefits; however, larger companies like Regis Brands customarily provide benefits like 401(k)plans and paid time off to full-time employees.
Cosmetics Industry Job Descriptions
Barber – Traditionally specialized in the grooming and hair related needs of males, barbers mostly find employment in barbershops, though some barbers also gain work in salons, hotels, or resorts. Duties associated with the positon include cutting and styling hair, shaving or maintaining facial hair, and fitting hair pieces for customers. Cleanliness remains a large component of the job as the tools used and the area surrounding a station must be sanitized between clients. Additionally, individuals hoping to enter the profession should note stamina, customer service, and listening skills stand as important traits for a barber to possess. Potential candidates must stand at least 16 years old and obtain a license from a vocational school or post-secondary program before qualifying for the job. Barbers earn an average of $12.00 an hour.
Hairdresser – Hairdressers must remain familiar with the styling techniques of both genders and most often gain employment in salons. Traditional duties include an ability to recommend products and treatments based on the condition of the hair or scalp of an individual; discuss style options and execute the requests of a customer; cut, dry, and style hair; wash, color, or condition hair upon customer request; and maintain cleanliness of the haircutting station. Nearly fifty-percent of hairdressers self-employ, which necessitates an ability to meet managerial duties, such as hiring and firing clients, advertising, keeping a record of inventory, and ordering new supplies, as well. Individuals interested in the profession must complete an approved program and receive a license in order to practice. Hairdressers make an average of $11.00 per hour.
Cosmetologist – While a cosmetologist may need to fulfill duties similar to a hairdresser, the position focuses mainly on skin and nails. Commonly found in salons, spas, and resorts, Cosmetologists serve as make-up analysts, nail artists, and should maintain the ability to recommend skin treatments based on the skin type of an individual. To compliment advice, cosmetologists often market skincare products, as well. Some cosmetologists even possess the aptitude to clean and style hairpieces. Much like any position in the cosmetics industry, individuals interested in cosmetology must receive a license through a vocational school or post-secondary program. The average wage for a cosmetologist stands at $11.00 an hour.