Print Out cousins subs Application
Download a printable cousins subs employment form.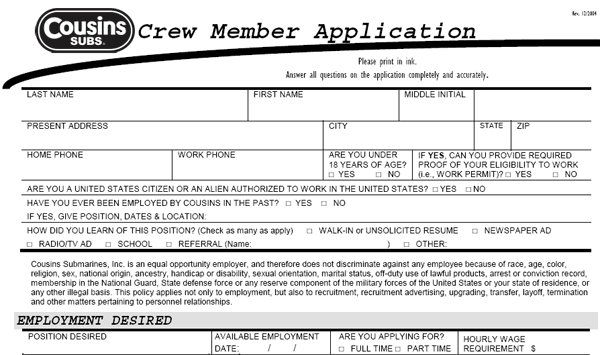 Benefits of Printing out the Cousins Subs Application
The United States-based sub chain operates as a regional company with restaurants in the Midwest. Franchises reside throughout Wisconsin, Arizona, and Minnesota and continue to expand. Job seekers may apply for entry-level and management job titles in person with paper application forms. The downloadable Cousins Subs PDF increases the likelihood of gaining an immediate interview with a hiring leader. Interviews regularly lead to same-day employment offers. To make on-the-spot interviews more probable, aspirants should avoid lunch and dinner hours and stick to slower restaurant times.
Assertive contenders arrive well-dressed and with polished application forms. Individuals should confidently request the time of hiring managers and insist on speaking directly with management only. Friendly, upbeat individuals fit into the workplace cultures of the customer-oriented sandwich shops. Job hopefuls should treat potential team members and customers with respect when applying in person and during any visits to locations, as first impressions often make or break prospective workers. Each aspirant should arrive prepared, focused, and ready to showcase talent.
How to Fill out the Cousins Subs PDF Application
Application forms request employment contenders to print in ink and completely and accurately fill in the required blank spaces. Candidates easily download and print the two-page application on personal or shared PCs. Afterwards, applicants should review the forms and gather the necessary information. An expected time period of half an hour to 45 minutes normally grants job hunters sufficient time to complete the submission thoroughly. Aspirants should never scratch out mistakes or errors but rather use whiteout or start over on new forms.
"General Information"
Neatly organized, the first category allows potential employees to move from left to right while filling in personal details. Some of the information requested includes last name, first name, and middle initial, present address, city, state, and zip, home and work phone numbers, and if under the age of 18. Candidates 17 and under may need to provide proof of eligibility to work, such as a work permit. Job hopefuls also mark whether legal United States citizens, if previously employed by Cousins Subs (if so, include position, location, and dates), and sources for locating the openings, i.e. walk-in, newspaper, radio, school, referral (include name), or other (list alternative source).
"Employment Desired"
Before moving onto the second category, a short disclaimer stands in between general information and desired position. The statement informs applicants Cousins Subs operates as an equal opportunity employer. In the job portion, state the job title of interest, available start date, full-time or part-time preferences, and hourly wages expected. Candidates then indicate the hours available per week and exact time periods Sunday through Saturday. If not accessible during specific times, applicants should provide explanations as to why.
"Education and Military"
The succeeding section focuses on educational institutions attended. Paper applicants must fill in the names of the high schools, locations, counselors, phone numbers, last grades completed, if currently enrolled, if graduated, cumulative GPAs, and special activities or awards earned. The form then targets whether aspirants attended college by asking for institution names, locations, majors, last grades completed, if now enrolled, if graduated (degree expected or earned), cumulative GPAs, and special awards earned for post-secondary credits. Job hunters may also list branches and ranks at time of discharge if involved in the military.
"Employment Experience"
Contenders start with the most recent job titles held and work downward through up to six past employers. The first question inquires into whether the restaurant may contact present employers as references. Important details to follow include names, addresses, and phone numbers of employers to the names of former supervisors, dates of employment, starting and ending salaries, job titles, and reasons for leaving (quit, terminated, other). Three lines below the chart ask job hopefuls to explain any gaps in work not accounted for by the information provided.
References and Closing Statement"
The reference section of the application requires details for three school, work, or personally related contacts. Applicants should not list relatives. Job seekers provide the name, telephone number, number of years known, relationship, and the type of reference for each person listed.
A brief statement requests aspirants to answer Yes or No if ever convicted of a felony, misdemeanor, or any other offense including municipal ordinance violations. The end of the submission presents a one-paragraph statement and requires a signature and date before completion.