Print Out Crate & Barrel Application
Download a printable Crate & Barrel employment form.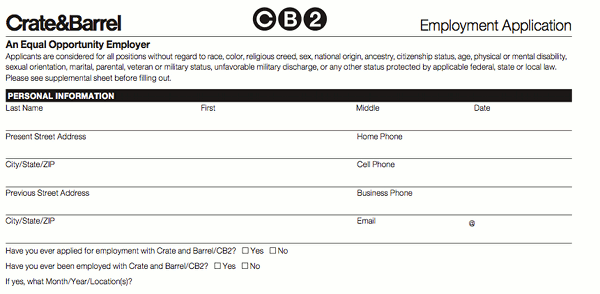 Benefits of Printing out the Crate & Barrel Application
Handwriting applications often communicates individual interests for gaining employment and demonstrates acute professional desires much better than simply filling in forms digitally using electronic submissions managers. Workers must take extra care to ensure the information provided stands as accurate and truthful as possible while using permanent ink. Applicants using electronic submissions usually send in forms to moderated email banks and await general responses. However, candidates using paper applications must visit desired locations and engage potential supervisors in conversation. The opportunities present unique circumstances to ask specific questions about the hiring process and press for interview consideration. Many job seekers receive automatic review from staff.
How to Fill out the Crate & Barrel PDF Application
Candidates should prepare to spend between 30 minutes and an hour filling in the required data fields found on the downloadable application. Workers may speed up the process by gathering related materials, such as contact information, education histories, employment background information, professional references, and details regarding skills and abilities prior to beginning. Job hopefuls should also keep in mind the types of personas home decor retail stores like Crate & Barrel often look for in new-hires. Tailor answers to reflect company missions statements and cultures to increase odds of landing interviews.
"Personal Information"
A typical rundown of questions sits in the Personal Information portion of the PDF. Applicants provide names, addresses, phone numbers, and emails in addition to indicating former employment with or submission of applications to the retail chain, age as above or below 18, and possession of proof to work in the United States. Candidates with backgrounds working for Crate & Barrel must list where and when. Admission of age under 18 requires checking off on the ability to obtain a work permit. Minors must also list legal guardians. The section closes with a prompt asking about criminal convictions, both petty and felonious in nature. If applicable, provide the dates and locations the offenses took place and final legal renderings.
"Employment Information"
The printable hiring form also inquires about specific positions desired and hours of availability. Workers provide the names of any job titles of interest, pay rate expectations, schedule preferences for each day of the week, and willingness to work overtime. Three checkboxes appear in the section for prospective employees to indicate part-time, full-time, or seasonal interests. Candidates conclude the section by listing first available start dates and referral sources for the positions. Friends or relatives of current employees should indicate so in the checkbox provided.
"References"
Job hopefuls must provide the names, occupations, addresses, and telephone numbers for up to three persons acquainted with for a minimum of three years to confirm professional abilities. The persons should not include relatives.
"Employer"
After gathering materials for up to four recent employers, candidates begin the next section with the most recent job held. Input the name, address, telephone number, supervisor name and email, dates employed, starting and ending salary options, specific job title, and a short list of duties for each position. Spaces appear for workers to list reasons for leaving each post, as well. A single line concluding the section allows individuals to request exemption from contact with the past jobs. However, applicants must state reasons why.
"Education"
Applicants follow the rows of data fields left to right to complete the Education section. Lines appear for information regarding experiences in high school, trade or vocational training, and up to two different colleges. Include the names, cities, courses of study or majors, and graduation dates for each institution attended. If still in school, workers must circle highest grades completed from the numbers listed at the far right of each row.
Beneath the chart sits a general question regarding special seminars, training courses, organizations, or certifications acquired related or directly benefiting positions desired. However, individuals who feel the past or current organizations or clubs may clue hiring managers into sensitive information, such as religious affiliation, gender, age, or race, the workers may omit the details and move on in the documents.
"Skills"
The first question appearing in the Skills section divvies responses between sales associate applicants and stock worker job hopefuls. Prospective sales associates must list types of merchandise sold in the past, if applicable, and aspiring stockers must list the types of equipment used previously in retail warehouse settings. A prompt for other special training or skills follows. Workers continue on to provide details regarding past experiences shopping at Crate & Barrel locations and reasons for choosing the home decor retail chain for employment. Site specific reasons. The writing-intensive section concludes with candidates sharing stories about providing excellent customer service in the past. Applicants must also list why the tactics used to provide the customer service proved so effective.
"Contact the Following in Case of Emergency"
Provide the name, address, relationship to, and phone number for a single person to serve as a contact in the event of a medical emergency or some other crisis.
"Applicant Agreement"
A list of information regarding employment, including hiring policies, background checks, and workplace decorum, appear in the Applicant Agreement. Signing and dating the document in the final section serves as legal notice and acknowledgement of rights as well as waives any liabilities on behalf of the retail company. Signatures and dates also certify the information provided as correct and accurately representative of the candidate named at the head of the forms.