Apply Online! Find a Parcel or Courier Delivery Driver Job Employment Application
Packers, drivers, and shippers are needed at major employers like DHL, FedEx, and UPS.
Top employers in this category:
---
Delivery Job Descriptions
Delivery drivers must safely transport important cargo through potentially crowded streets or congested freeway traffic to supply goods to households and businesses. Drivers often must load and unload trucks, which involves lifting and carrying heavy objects. Delivery workers process receipts and normally bear responsibility for procuring confirmation signatures of recipients, as well. Some delivery drivers also assume duties related to sales. In addition, package sorters work to prepare items for shipping.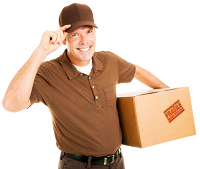 Now hiring for shipping & handling
Industry Outlook
The advent of widespread GPS technology allows for improved route planning and readjustment, which makes deliveries more efficient and cost-effective. Businesses should continue growing in concordance with the growth of the economy as delivery drivers still make up the primary means of bringing goods to given destinations. Around 1,274,000 jobs exist in the delivery field, according to the U.S. Bureau of Labor Statistics.
Position Requirements and Salary Information
Job hopefuls should show exemplary driving skills and possess clean accident records. Patience with traffic and the ability to lift heavy boxes also help qualify applicants for hire. Customer service skills stand as highly important traits to possess during interactions made on delivery runs, and especially so for workers with sales responsibilities. Additionally, some delivery drivers may work overnight or early in the morning to ensure goods arrive at the right time. Job training for entry-level workers typically lasts one month or less. Applicants must possess valid driver's licenses and high school diplomas or equivalents to gain hire. The largest companies in the industry, such as FedEx and UPS, offer employment benefits like health care coverage and more. Delivery drivers generally earn around $13.00 per hour.
Popular Delivery Job Descriptions
Driver – Responsible for making scheduled deliveries, drivers transport goods from suppliers or distributors to commercial and residential customers. Delivery driver jobs typically entail the operation of customized trucks or other vehicles designed to hold large shipments of merchandise. In addition to operating delivery trucks, drivers drop off packages at specified locations and obtain confirmation of receipt as necessary. Delivery drivers regularly perform or assist with the loading and unloading of merchandise shipments, as well. Employees must obey all traffic laws while driving and notify the proper personnel of any incidents encountered on the job. Drivers also maintain responsibility for keeping the delivery truck clean and reporting any mechanical issues. Physically demanding, delivery driver jobs involve lifting significant amounts of weight and carrying heavy packages while walking. Drivers generally work daytime or evening shifts on standard business days and sometimes make deliveries on weekends. The possession of a high school diploma, valid driver's license, and clean driving record usually serves as the main criteria for landing a delivery driver job. Hourly pay for the entry-level position typically hovers around $13.00 or $14.00.
Packer – Also known as packagers, packers normally work at distribution centers and help prepare items for delivery. The job primarily involves packaging outgoing merchandise according to company specifications and loading the items onto the delivery truck. Packers regularly handle expensive or fragile items and must work carefully while still achieving high levels of productivity. Packager jobs also require workers to ensure the durability of parcels otherwise ready for delivery. Aspiring packers typically face minimal hiring requirements, as most employers in the delivery industry only require candidates to meet the minimum age to work. Applicants must also exhibit good physical fitness due to the demanding responsibilities of packer jobs, including tasks like lifting, carrying, and stacking heavy packages. The work performed by packagers often takes place overnight or during other irregular hours to ensure shipments go out for delivery promptly the following day. Packers earn an average hourly wage of about $11.00 or $12.00.
Shipping/Receiving Clerk – Like packagers, shipping and receiving clerks typically work at distribution centers or other warehouse-type storage facilities from which deliveries originate. The shipping and receiving clerk performs recordkeeping and other administrative tasks essential to the shipment and delivery of merchandise. Job duties range from assembling the contents and ensuring the accuracy of outbound orders to unpacking and documenting incoming shipments of merchandise from manufacturers and suppliers. Shipping and receiving clerks also prepare merchandise for delivery by affixing the address of the recipient and proper postage to packaged items. Less physical and more clerical in nature than driver or packer jobs, shipping and receiving positions demand attention to detail and generally pay about $14.00 or $15.00 an hour.