Print Out Dots Application
Download a printable Dots employment form.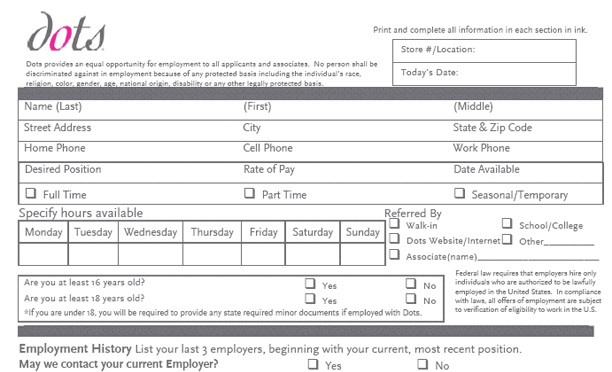 Benefits of Printing out the Dots Application
Employment in the fashion retail industry often hinges on the personal clothing styles worn by candidates applying for available jobs. Workers must demonstrate keen fashion sense in addition to attentive, helpful, and customer-first attitudes. Printing out a hiring form instead of filling out the employment document online provides myriad ways to express individual tastes in fashion as well as the opportunity to converse with hiring personnel and establish positive rapports. Unlike filling out paper applications in store, downloading and printing out PDF versions of the Dots application offers unlimited time to complete the documents, which may negate errors made in haste or out of anxiety.
How to Fill out the Dots PDF Application
Individuals should first check printers to make sure ink levels are sufficient to print out the forms. Then, after downloading and printing the hiring requests, workers need to complete the application pages by hand using blue or black ink. Information to have ready prior to filling out the documents includes contact details, past jobs, and academic histories. Make sure to review each required section to ensure information stands as accurate and truthful as possible before visiting a Dots location and handing the forms over directly to management.
"Contact Details"
The first section of the printable Dots application asks for standard contact information. Workers must provide the date, names, addresses, phone numbers, emails, positions desired, expected pay, first dates available, and indicate wishes to assume full-time, part-time, or temporary status upon hire. Below the lines for basic contact information sits a small chart allowing prospective associates the ability to enter in hours available for each day of the week. Applicants must also confirm a minimum age of 16 or 18 years and enter reference information.
"Employment History"
Job hopefuls begin the Employment History portion of the Dots downloadable application with checkboxes denying or granting the retailer permission to contact current employers. Workers may choose either option. After marking the desired box, applicants move on to provide details regarding up to three recent jobs. The form asks workers to begin with the most recent position held and to list subsequent entries chronologically. Specific information required includes the names of the employers, positions held, starting and ending salary rates, employer addresses, supervisor names and titles, company phone numbers, hiring and termination dates (if applicable), and reasons for leaving.
"References"
The References section also provides spaces for up to three entries, with workers submitting details for professional or educational contacts able to attest to specific and related abilities. Individuals need to list the names, addresses, phone numbers, relations, and lengths of relationships for each person provided. References should not include friends or family members.
"Education"
A brief box appears for workers to reveal educational backgrounds. Candidates must list high schools, colleges, or vocational schools attended in the data fields provided. Required details range from school names and addresses to indication of graduation and types of coursework studied or degree/diplomas obtained.
"Additional Questions"
Employment hopefuls conclude the hiring forms with a short questionnaire regarding resignations from previous jobs, criminal convictions, histories working for Dots, and relations to any current employees of the chain. A final question asks why applicants want to work for the retailer in particular, and if the candidates know of any friends or relatives interested in gaining employment as fashion retail associates. Applicants must list the names and phone numbers of other individuals interested in available positions.
"Signature and Release
The last portion of the Dots PDF application includes a statement regarding the rights of applicants and a waiver concerning the dissemination of information provided. Terms and conditions listed also delve into permission granted by candidates to conduct background checks, including contacting past employers, if applicable. Statements about agreement to codes of personal conduct also appear in the waiver. Signing and dating the application grants the retail chain exclusive rights to the information on the forms and finalizes the employment request.