Print Out Earls Kitchen and Bar Application
Download a printable Earls Kitchen and Bar employment form.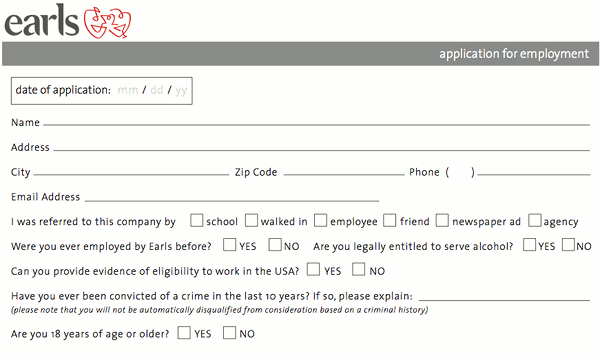 Benefits of Using the Earls Kitchen and Bar Printable Application
Earls Kitchen and Bar offers printable PDF job applications so candidates can apply for positions with the restaurant in person. Applicants are urged to print out forms and turn them in directly to managers during in-store hours. This allows them to highlight and emphasize certain qualities and skills that might get overlooked on applications. It also helps increase chances of standing out from other job seekers.
Completing PDF Applications for Earls Kitchen and Bar
The application forms are two pages long and take less than half an hour to complete on average. Answer every question provided and only include truthful responses. Use either blue or black ink and write in very neat handwriting.
Basic Information
The first page asks for basic personal information, such as names, addresses, and contact details. A few questions follow and require applicants to check boxes that match their answers. The queries relate to legal work status, criminal records, and age. The last section leaves room for job seekers to state the positions they desire and availability.
Education & Past Employment
This part of the form outlines education and employment histories. It asks for general details about previous schools and jobs, such as areas of study while in school and descriptions of work for past jobs. Be sure to fill in each empty line with a response to the prompts.
References
Finally, include authentic and reliable references in this section. First confirm with the references that they can be used as sources, and then provide basic descriptions of the relationships. Finally, read over the employment disclaimers and upon agreement, sign and date.