Print Out Firehouse Subs Application
Download a printable Firehouse Subs employment form.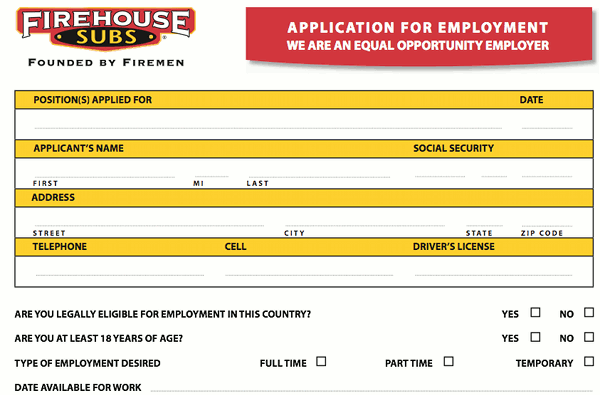 Why Should You Print Out Firehouse Subs' Application?
Taking the initiative to make a trip to Firehouse Subs to return forms often impresses managers. Not only can candidates display their eagerness to work at the business, but they can also show their expertise. Managers value job seekers who want to speak with them about their applications.
Completing the PDF Application for Firehouse Subs
The application form is two-pages long and takes most candidates less than half an hour to complete. Slowly read through each section to guarantee accuracy. Fill out the printed application in clear handwriting. Using blue or black ink is advised, as it appears more legible.
Background Information
The application ask candidates to fill in the position they are applying for. Add your name, social security number, address, phone number, and driver's license. Then, job seekers must answer "Yes" or "No" to questions about age requirements and eligibility to work in the U.S.
Available Times to Work
Next, applicants select from "Full Time," "Part Time," or "Temporary" employment. After that question, candidates need to offer the date they can begin with Firehouse Subs, as well as listing specific days and times they are available to work. Job hopefuls must also state whether or not they can work overtime and if they are currently laid off.
Criminal History
As stated on the form, answering "Yes" to any of the following questions does not disqualify applicants. The next two queries ask for those who have been convicted or charged of crimes in the last seven years to check "Yes" in the given boxes. There is space offered to write additional details. If not relevant, check the "No" boxes.
Education
In the provided columns, candidates can list the names, locations, years completed, and degrees for their elementary, high schools, and colleges. An "Other" section is listed for those who went to trade or certificate schools.
Past Employment
The second page gives candidates room to detail past jobs. List jobs and relevant volunteering in order of most to least recent. Include company names, addresses, and phone numbers, dates employed, and reasons for leaving. Pay rates, positions, and duties should also be recorded. Lastly, identify whether Firehouse Subs may contact these past employers.
Final Statements
Finally, job seekers must include whether they have worked for the company before. Candidates are also asked if they have ever served in the military or currently serve in the National Guard or Reserves. Those with computer skills can check the given boxes that ask what software they are familiar with. Select all that apply. Finally, thoroughly read the application before signing and dating it.