Print Out Francesca's Collections Application
Download a printable Francesca's Collections employment form.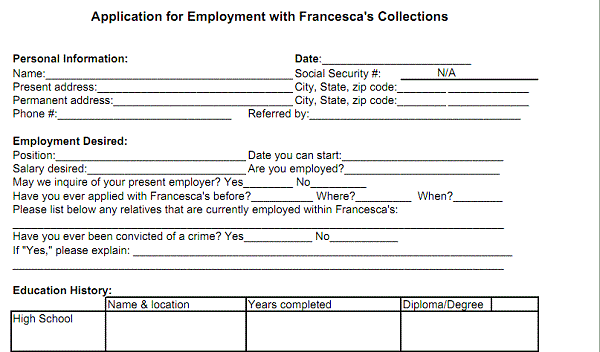 Why Print Out Francesca's Collections Applications?
Clothing chain Francesca's Collections looks for team players who love helping people express their style. When applying, consider printing out forms to hand in at local stores. While online applicants go to interviews without all the facts, job seekers who apply in person can see stores, talk to the managers, and meet workers before making decisions.
Completing the Francesca's Collections PDF Application
To make applying quick and easy, Francesca's offers a short, two-page form, which focuses on key facts. To save time, applicants should have the information they need for references, schools, and job history ready before they start filling out the forms. Remember to also print clearly in blue or black ink.
Personal Information
In the first section, candidates can write their name and the date. Fill in the rest of the contact information like address, social security number, and phone number. On the permanent address line, applicants that expect to move in the next year should add an address where mail will always reach them.
Employment Desired
Write the position and salary desired, as well as the date work can begin. Those not currently working should share this fact, while other applicants should tell Francesca's whether they can contact their supervisors. Candidates who have applied before should write where and when. If any relatives work at the company, write their names on the line provided. Finally, check Yes or No to share any past crimes. Those who answer Yes should add details such as trial dates.
Education History and Former Employers
Next, fill in the two charts asking about schooling and past jobs. Applicants should give the name, location, years finished, and degree awarded for all schools they attended. Job hopefuls should then fill in the employment section, starting with their most recent work. Write each company's name and address, dates work started and ended, salary, title, and the reason for leaving. To complete the page, list any special skills related to the position.
References and Availability
The second page includes space for four references, their contact details, and the number of years the applicant has known them. For a good mix, choose two people from work and two from other activities such as clubs, volunteer work, or school. Finally, job hopefuls should list the days and hours that they can work.
To make the form valid, read the notices under the authorization heading and then sign and date the form. Signing means that candidates agree to follow the rules that the form explains.