Print Out GameStop Application
Download a printable GameStop employment form.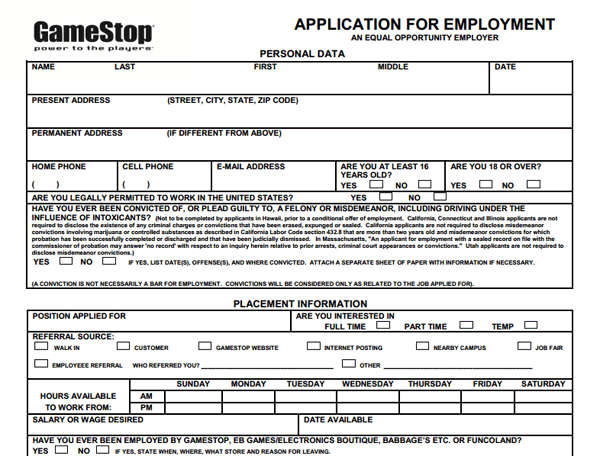 What Should I Do With This Form?
Read the directions below for help completing the GameStop application. Click the image above to download it. When done, take it to your local store for review. For assistance with applying online, visit this page. If ready, look for job openings near you.
Applying for a GameStop Job
Entry-level workers love GameStop because the company sells video games and pop culture goods. When looking for work, being polite and friendly is crucial. That's why filling out and handing in an application form is a great idea. It gives job hopefuls a chance to make a good impression on employers.
To start the hiring process, print out the PDF GameStop job application. For added durability, use slightly thicker paper stock than normal. Be sure to write neatly using blue or black ink.
Personal Data
Begin by entering last, first, and middle names. After filling in the current date, provide a home address, phone number, and email address. Indicate age since no one under 16 is eligible for employment.
Upon giving citizenship status, attach a separate piece of paper with details on any misdemeanor or felony convictions if applicable. If not, mark the corresponding box.
Placement Information
Fill in the space asking for a desired position, and check a box for full-time, part-time, or temporary work. If referred, note the employee's name. Indicate available hours in the chart. Be accurate to ensure proper scheduling. Enter desired salary or hourly wages, along with an open start date and past experience at GameStop.
Career History
Beginning with the most recent employer, potential workers must list their job history. This includes supervisor names, numbers, and addresses. They must also write dates employed, pay rates, job titles, reasons for leaving, and duties. Attach more paper if needed.
Education Record
To be considered for hire, candidates must provide the name, city, and state of their high school. Mention any trade schools or colleges attended too. If relevant, the form requires titles of minors and majors, as well as degrees or diplomas.
Video Game and Software Knowledge
Hiring managers need each worker to have current knowledge of gaming and tech. In this section, hopefuls summarize their experience using game consoles, software, and PCs. Add additional sheets for extra space.
References
There are many benefits to listing good references. It helps an applicant earn trust when beginning a GameStop career. The company tends to prefer employment contacts over personal. Relatives and other family members cannot be used as sources.
Enter each person's name, job description, address, and phone number. Also make note of the amount of years known. Check the box to label them as employment or personal references.
Wrapping Up
To finish the job application, read through the final seven statements. Upon agreeing to these terms, sign and date the document. Hand in the completed form to a local GameStop manager for consideration.