Print Out Gap Application
Download a printable Gap employment form.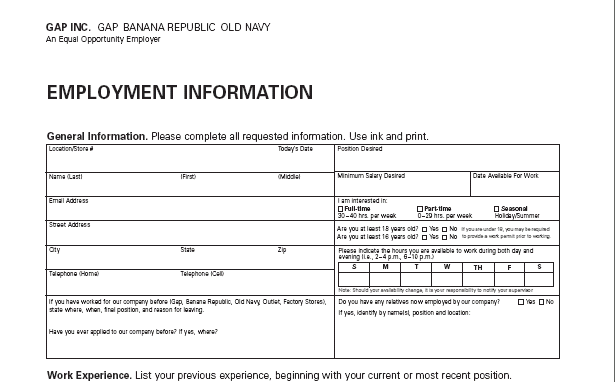 Benefits of Printing out the Gap Application
Clothing and accessories retailer The Gap, Inc., commonly identified as Gap, employs around 135,000 staff members to service nearly 3,000 locations nationwide. Job hunters readily seek employment with the fashion-oriented company by applying in person. Geared with enthusiasm, determination, and well-constructed application forms, aspirants dazzle recruiters with friendly personalities and previous experience. The printable PDF stands as an excellent opportunity to showcase former employment, education, and skill sets in a legible and error-free form. Handwritten applications allow individuals to personally greet hiring managers, as well.
First impressions remain paramount when competing against hundreds of others for a single opening. By dressing both professionally and fashionably, candidates locate local outlets and arrive during slower hours. Applicants should bypass entry-level workers, and only turn in submissions to hiring managers. Ideally, job seekers should prepare to discuss the position, company, and information on the application form, in case an on-the-spot interview takes place.
How to Fill out the Gap PDF Application
The opening header of the two-page application instructs candidates to use ink and complete all requested information. To begin, aspirants should download and print the PDF. Scanning over the entire form and gathering the necessary details allows the process to move more swiftly. The form breaks into easy-to-navigate sections, which target typical information of previous employment, education, and availability.
"General Information"
Job seekers start by providing the desired store location and date. Next, aspirants answer personal information questions consisting of last name, first, and middle initial, email address, street address, city, state, and zip, telephone number, and if ever employed with the company (Gap, Old Navy, Banana Republic, Outlet, Factory Stores). If so, previous employees should list the state, when, final position, and reason for leaving. In addition, individuals who applied in the past for openings should include the location. Yes and No checkboxes inquire into whether any relatives work for the company, followed by spaces for names, positions, and locations, if applicable.
The same boxed section also requests the availability and interest of each candidate. Beginning on the right, aspirants list the position desired, minimum salary requested, and if at least 16 years old. Contenders may than checkmark the type of employment desired as full time, part time, or seasonal. A small chart with Sunday through Saturday requests hopefuls to indicate hour and day availability.
"Work Experience"
Beginning with the current and most recent job title, the form provides enough space for three previous employers. Candidates provide similar information for each one listed, which consists of employer, address, phone number, supervisor, starting and ending date, salary, reason for leaving, and duties. Advisably, contenders should try to include duties relevant to the position desired. If more space deems necessary, aspirants may continue on separate sheets of paper and attach the extra documents to the printable hiring form.
"References"
The next category possesses a header informing individuals to include business-related references. Family members, as well as personal references, should not end up in the chart. To add references, aspirants include the name, street address, city, and state, phone number, email, job title, and number of years acquainted for each referent.
"Education and Training"
A list of levels for education appear underneath the References section and include college, high school, and additional training. Recruiters inquire about the name, address, number of years completed, degree, and type of course or major at each institution. Additional training may include certifications or miscellaneous classes related to the position of interest at Gap. Hiring leaders also request whether applicants speak any foreign languages. For office work, job hunters indicate the words typed per minute speed and other computer/software knowledge.
"Miscellaneous Details"
A selection of questions delve in the history of the potential employee. Applicants answer whether dismissed or forced to resign from previous employers, if ever convicted of felonies or theft-related misdemeanors in the last seven years, and if legally able work in the United States. Other inquires seek job referral sources, such as a walk-in applicant, newspaper ad, employee referral, website, school, or other. On personal matters, job hopefuls comment on strengths, dislikes from previous jobs, and why Gap stands as a desirable company for employment.
Aspirants find a statement and signature spot at the bottom of the second page. A notice remains available for residents of Maryland and Massachusetts instructing individuals of legal rights. Job hopefuls must agree to abide to the rules and regulations of the company. Prospective employees must also understand Gap operates as an at-will employer. After reviewing the entire statement, job hunters sign and date in the appropriate spaces.