Print Out Gattis Pizza Application
Download a printable Gattis Pizza employment form.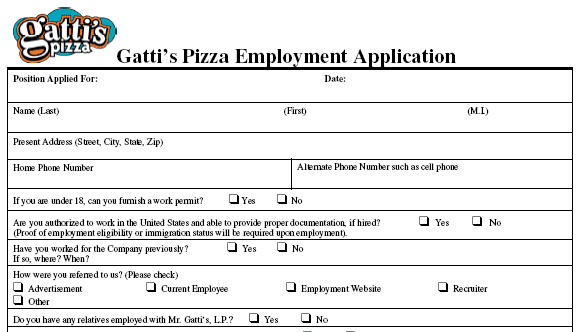 Benefits of Printing out the Gatti's Pizza Application
Pizza buffet chain Gatti's Pizza regularly hires entry-level aspirants to partake in exciting roles in customer service. Individuals should download printable application forms to apply for the eatery. Once completed, potential team members bypass entry-level staff and request the direct attention of hiring leaders. Geared with resumes and legible applications, contenders must create positive first impressions by demonstrating professionalism and friendly demeanors. Immediate interviews may occur when arriving during slower business hours. Individuals able to elaborate on previous experience, related skills, and passion for customer service may gain on-the-spot job offers.
How to Fill out the Gatti's Pizza PDF Application
Submissions take on the appearance of standard paper applications forms and ask generic information about personal contact details, previous employment, educational background, and references. Aspirants should gather facts ahead of time to shorten the process down considerably. The infamous logo of Gatti's Pizza appears in the left corner followed by an application title. Categories break down into multiple sections, which allow candidates to easily fill in information. Individuals should only use blue or black ink.
"Personal Information"
The opening lines of the applications require aspirants to provide the position of interest and the date. Afterwards, job seekers write last and first names, middle initials, current addresses, home phone numbers, and alternative phone numbers. Applicants under 18 years old should possess the ability to furnish work permits. Further inquiries delve into whether contenders may legally work in the United States, if ever employed with the company previously, the sources for locating the position, and if relatives work for Gatti's Pizza. A Yes or No question touches on the background of each job hunter and whether ever convicted of a felony. Individuals must describe the situation on the provided lines, if ever convicted.
"Availability"
Availability of contenders appears in the succeeding section. Aspirants check preferred work schedules of full-time, part-time, temporary, or seasonal. Underneath, a chart of Monday through Sunday appears where applicants circle AM, PM, or both depending on availability each day of the week. Two blanks request available start dates and expected salary options. A short disclaimer in the section informs potential staff members work schedules remain based on the needs of business and may change on a weekly basis.
"Education"
The third category into the application focuses on the educational backgrounds of prospective workers. Individuals answer questions intended for high schools, colleges, and other institutions attended in the past or currently. Columns of names and locations, major subjects, last years attended, graduation (either yes or no), and degrees feature in the education chart. Directly underneath, a few lines remain accessible for applicants to list skills and experience related to the specific job title applying for.
"Employment History"
A short list of directions begins the Employment History section. Job hunters must complete the entire portion in order for applications to receive consideration. Telephone numbers for former employers must remain correct, as recruiters try to contact each one. Individuals should start by listing the most recent job title held. Spaces for three former and/or current job titles exist. Provide the name of the company, address, start and end dates, position held, salary, reason for leaving, and contact details for former supervisors. A large text box gives contenders plenty of space to describe former duties and responsibilities. The last question of the section asks if applicants ever faced resignation.
"References"
Four rows of blanks allow candidates to fill in information for unrelated references. Details to include range from names and addresses to phone numbers and relationships. The people listed should provide excellent feedback to recruiters and thoroughly describe the work ethics and personalities of potential employees positively.
"Agreement"
A series of three statements requires initials next to each. The first verifies applicants only include accurate, true, and complete information. Misrepresentations may result in immediate termination for individuals hired. The second paragraph allows recruiters to investigate provided information for accuracy. And the final portion of the agreement informs job seekers Gatti's Pizza remains an at-will employer and nothing in the application suggests a contract of employment. If accepting of each statement, contenders should provide full signatures on the appropriate line and then date next to the space.