Print Out Goodyear Application
Download a printable Goodyear employment form.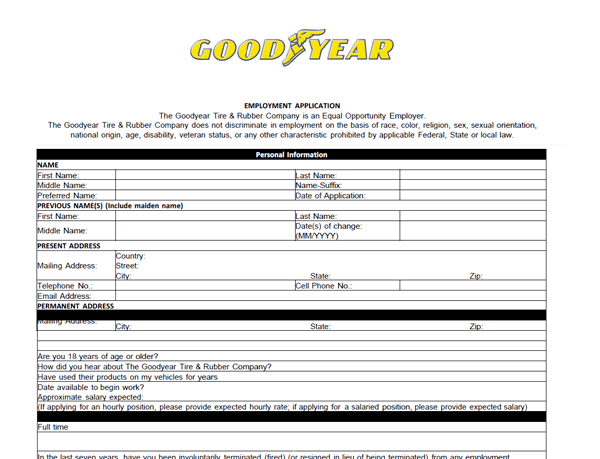 What Should I Do With This Form?
Job hopefuls can easily complete a Goodyear application by following the steps found on this page. Take finished forms directly to the nearest location. By turning in the paperwork on site, candidates get to show hiring managers how personable they are.
Individuals who prefer will find the resources to apply online to Goodyear right here. Not only can job seekers browse available positions, they'll have all the materials needed to submit an application form.
Getting Entry-Level Work at Goodyear
Most entry-level Goodyear jobs focus on customer service. They're also an excellent way to study a trade. Though pervious knowledge of cars helps land work, part-time employees often learn through hands-on experience.
Printing out the downloadable PDF application above is the first step toward finding a meaningful Goodyear career.
Personal Information
In order for hiring managers to get a hold of potential hires, they need contact info. Be sure to print everything from name and phone number to street address clearly.
This portion also has a few simple questions about the position and pay rate. For part-time work, write an expected hourly wage. A full-time applicant will choose a desired yearly salary. Answer honestly, keeping responses brief.
Next, Goodyear wants to know some background info. This includes a history of job firings, criminal offenses, and military service. Respond truthfully for the best chance of a smooth hiring process.
Former Employee
This short section requires applicants to say whether they've held a Goodyear job in the past. If so, provide details, including a reason for leaving.
Driver's License
Since the company is all about auto care, knowing one's way around a car is important to the work. That's why Goodyear applications have a special place for the candidate to offer personal and commercial driver's license data if applicable.
Previous Employers
Next, hopefuls should give the contact information of their two most recent employers. Fill in the position held, dates of employment, job duties, and salary packages.
Education
In this section, candidates list their highest form of education. Give the name of the institution and the type of degree received. Those who can read, write, or speak in different languages have the opportunity to put that here.
Finishing the Goodyear Application
To finish up, read the terms and conditions. Finally, sign and date the last page. Applicants must review the entire document to ensure everything is accurate and legible. Once complete, head down to a local Goodyear to turn in the application to the hiring manager.