Print Out Gymboree Application
Download a printable Gymboree employment form.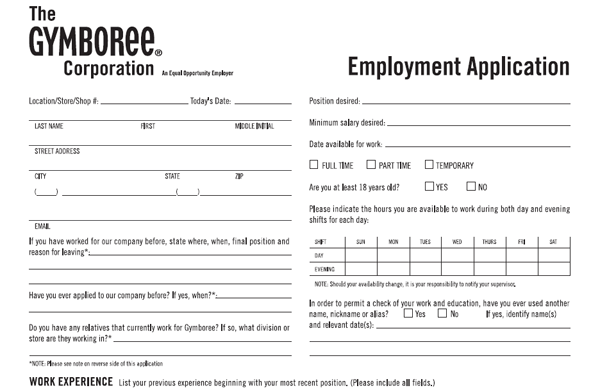 Benefits of Printing out the Gymboree Application
San Francisco-based apparel store specializing in attire for children, Gymboree, maintains over 1,200 locations throughout the United States, Puerto Rico, and Canada. Job hunters interested in applying at one of the many outlets should arrive in person with a printable PDF form. Candidates should demonstrate the ability to work in retail by dressing professionally, maintaining friendly smiles, and possessing reliable transportation. By approaching hiring managers in person, applicants show dedication and tenacity. Fully filled out application forms showcase the professional expertise of potential employees. Aspirants should prepare to discuss previous experience and education in the event of an on-the-spot interview.
While technology makes the online application process easy and quick, old-fashion paper submissions still rank superior when trying to create exceptional first impressions. Since most job titles at Gymboree require face-to-face interactions, the best way to demonstrate the ability to perform such tasks remains to meet coworkers and hiring managers in person. Individuals should appear bubbly, approachable, and make simple talk easily. Job hopefuls must also remain respectful of customers and patiently wait for prospective team members and managers to finish assisting the patrons at hand before approaching. Ideally, contenders arrive during slower shifts.
How to Fill out the Gymboree PDF Application
Organized in multiple sections, the two-page application form proves easily understandable. The entire submission takes approximately half an hour to fill out. The form breaks into a left and right column with inquiries into previous employment, education, and work-related skills. Aspirants should only fill the submission out in blue or black pen. Each blank must receive an answer, unless the specific question does not pertain to the candidate. Individuals should also take care to write legibly and avoid errors.
"General Information"
Begin the application process by entering the location and date. Candidates then move down the left column by filling in the blanks for last, first, and middle names, street addresses, cities, states, zip codes, phone numbers, and email addresses. The form instructs previous Gymboree employees to state when, where, and the final position held. Applicants must also mention whether any relatives work for the company and if the individual previously applied to work at the retailer.
The column on the right specifically delves into work-related questions and availability. Candidates answer the type of position desired, minimum salary requirements, dates available for work, and whether full-time, part-time, or temporary work stands requested. Aspirants should also indicate whether over 18 years old by checking Yes or No. An availability chart requires job hopefuls to enter days and times accessible Sunday through Saturday. A small disclaimer mentions potential workers must notify supervisors if availability changes. The last inquiry of the section asks contenders to list any other names used when applying or working for previous employers.
"Work Experience"
Broken into three spaces, the previous employment section of the application requests details about former positions held. The most recent job title should appear first on the form. Specific information to include ranges from employers, addresses, and phone numbers to supervisors, reasons for leaving, positions, duties, and dates of employment. Candidates should repeat the information for two more jobs, if applicable. A separate piece of paper allows for more space. Individuals should also include professional references by providing names, addresses, phone numbers, titles, and number of years known.
"Education and Training"
Three spaces for high school, college, and additional training exist in the succeeding category. By completing the names, cities and states, years completed, and majors, individuals breeze through the relatively short section. Additional training should remain relevant to the position, and may include certifications and classes.
"Miscellaneous Information"
A variety of questions appear in the next few sections of the application form. To begin, job seekers enter if ever dismissed or forced to resign from positions and explain why, if so. Afterward, individuals mention the number of unauthorized absences in the last 12 months at former companies. Recruiters also require knowledge of any felonies or misdemeanors on the records of contenders, including any workplace violence. Job hopefuls should also provide emergency notification contacts, reasons interested in working for the company, and dislikes regarding previous job titles. Gymboree requests referral sources for positions desired, such as schools, employees, newspaper ads, or websites, as well.
"Certification and Release"
The last portion of the submission contains a detailed statement about hiring practices and legality of the form. If contenders agree to the listed details, individuals should sign and date underneath the information. Gymboree remains an at-will employer, and relationships may terminate at any point by employer or employee. The retailer also expects all information to stand truthful and relevant.