Fitness Industry Jobs, Personal Trainer Employment Applications Online
Fitness Jobs: Jobs often stand readily available for employment hopefuls seeking entry-level careers within the exercise, health, and fitness industry. Nearly 300,000 jobs exist nationwide within the field, with typical wages averaging $32,000 annually. Positions often accessible include personal fitness trainer, group fitness instructors, specialized fitness instructor, and fitness director. The United States Bureau of Labor Statistics also projects industry growth of about 13 percent over the next 10 years. Most gyms and aerobic centers require workers to hold training certifications, but no formal education proves necessary for most positions.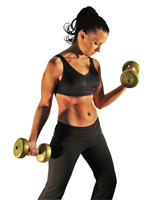 Local gyms now hiring
Preferential Qualities: Fitness workers must hold key qualities such as sound instruction and motivation skills in addition to personal fitness efforts and patience for clients of all ages and skill levels. Most places of hire require a high school education or equivalent. Some positions may require bachelor's degrees in applicable fields, such as health, nutrition, exercise science, or fitness. Availability often plays factor for job hopefuls, although some situations call for smaller, short-term commitments. Many times, workers only teach fitness classes in the evenings or during weekends. Full-time and part-time hours also exist at most locations. Previously attained certifications often prove favorable during the hiring process.
On the Job: Fitness jobs may become accessible in locations such as health clubs, fitness centers, country clubs, hospitals, universities, yoga and Pilates studios, resorts, and client homes. Upon hire, personnel may need to complete training programs lasting anywhere from a few days and up to a couple of years. Responsibilities on a daily basis often include demonstrating exercises, correcting technique, providing feedback, monitoring progress, and providing emergency response when necessary. Depending on hiring roles, employees may prepare and lead workouts for individuals or small and large groups. Personal fitness trainers typically work with one client or small groups and may train individuals in gyms or at private homes. Group fitness instructors instead organize and orchestrate large classes, which could include aerobic exercise and muscle toning.
To Apply: Potential employees may find success by applying to companies of interest online or by visiting a location of desired hire. Job hopefuls should bring copies of resumes including current and accurate information capturing previous experience, education, and certifications during in-person trips to companies.
---
Top employers in this category:

Common Fitness Job Descriptions
Personal Trainer – Working one on one with the clientele of gyms, health clubs, hospitals, universities, studios, resorts, and even in homes, personal trainers help individuals realize full fitness potential. Often responsible for choreographing original workout routines, people employed as personal trainers must assess the ages, capabilities, and skill levels of clients in order to design personalized sequences. Furthermore, depending on the establishment, the duties of a personal trainer may include demonstrating how to properly perform various activities without the risk of injury, watching customers and giving feedback about how to improve exercises, explaining safety procedures, and providing advice regarding nutrition, weight control, and lifestyle. Training in first aid may prove a necessary qualification for hire, and prospective personal trainers should maintain good physical condition. Job hopefuls should at least obtain a high school diploma or the equivalent, though some gyms and centers require associate's or bachelor's degrees, and attain various certifications. Personal trainers make anywhere from $17,500 to $66,500 annually.
Fitness Director – Fitness directors, while generally serving in a stepping-stone position to managerial roles, oversee all fitness related activities and programing in gyms and health clubs. Specific duties of fitness directors include creating a master schedule of all training sessions for weeks or months at a time, creating and implementing various exercise-incentive programs in the gym and surrounding community, and selecting and ordering fitness equipment to meet the needs of the gym. General administrative responsibilities consist of tending the front desk, signing up new members, giving tours, and supervising workout areas. Job hopefuls must obtain a bachelor's degree in exercise science, physical education, kinesiology, or the like in order to qualify. The position of fitness director represents a full-time engagement, and individuals should expect to receive an average salary of $33,000 per year. Additionally, fitness directors qualify for benefits, such as health care and a 401(k) plan.