Print Out Holiday Inn Application
Download a printable Holiday Inn employment form.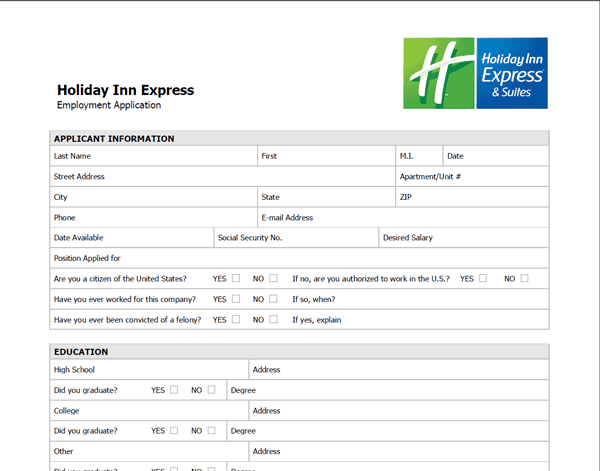 What Should I Do with This Form?
Downloading and printing out this application is the first step toward securing an entry-level Holiday Inn career. Handing in a paper form gives candidates the chance to make a lasting impression on hiring managers. Potential employees can also read about applying online or find jobs nearby.
Breaking into a Hospitality Career at Holiday Inn
A passion for customer service is an absolute must for a Holiday Inn job. People who have diverse interests and experiences can find satisfying careers with the hotel chain. Entry-level work covers everything from manning the front desk to cleaning rooms.
Using this guide, job hopefuls should be able to fill out Holiday Inn applications with ease and confidence.
Applicant Information
The first section of the application form asks for contact details. Print legibly in blue or black ink to make things more readable for hiring managers. In addition to address and phone number, job seekers specify a desired position and salary package.
Education
Next, enter the name and location of past schools. Include high school, college, and trade institutions. Be sure to state any degrees earned.
References
In this portion, candidates should consider references who can speak to their strengths as employees. Examples are teachers, mentors, and past bosses. Avoid listing family and friends. Print each person's contact info as clearly as possible.
Previous Employment
To show a dependable and solid work ethic, the Holiday Inn application requires data on former employers. For all jobs, provide:
The company name and supervisor
An address and phone number
The position held
Starting and ending hourly pay rate
A list of job duties
Start and end dates
A reason for leaving
Military Service
Job hopefuls may list the specifics of their military experience including branch and rank. Then, they answer a few questions about the nature of the discharge. Those who did not serve will leave this area blank.
Disclaimer and Signature
For the final section, read the disclaimer, then sign and date the form. Review everything to ensure accuracy. Once it's complete, take the Holiday Inn application and printed resume to any location and talk to the manager.