How to Get a Job at Home Depot
This is a complete guide (everything you need to know) for getting hired. This guide contains the following information:
How to Apply Online
Step 1
Got to the the Home Depot website's careers page.
If your web browser's Location settings are on, the Home Depot career page will show job openings in your area.
Otherwise, you'll need to type your location in the search bar to find available positions near you.


Step 2
Review the results and select the role that you want.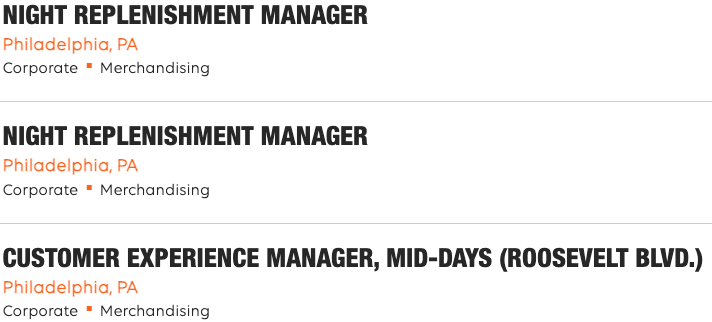 Step 3
Read the job description before clicking the Apply button.


Step 4
Now create a profile on the site.

Use a valid email address to create an account on the Home Depot website. Set a strong password, choose security questions, and begin the application process.
Step 5
Answer questions about your age, education, and whether you've ever worked at a Home Depot location before to ensure you qualify for the selected position.
Fill out each section of the application form, providing contact information, availability, references, and relevant experience or work history as needed.
Certify that your application and resume contain honest, accurate information and that you agree to submit to a drug test and background check before hire.
Submit your completed application.
Tips for Applying
When you select the role you want to apply for, read through the entire job description to ensure you meet the qualifications.
Bilingual candidates and those who have experience with DIY home repairs or renovations might draw a hiring manager's attention more easily, so be sure to include information on any additional skills you have.
In order to speed the process up, gather all relevant materials ahead of time.
Check over all phone numbers, contact names, and other information to ensure there are no errors or misspellings.
Application Status
Online applicants typically receive a verification email.
Candidates wait a few days to as long as a week to hear back from hiring managers about interviews.
Applicants can use the online career portal to check on current applications or should contact stores during slower hours.
Checking on your application in person can make a good impression on the manager, showing them that you're committed to getting the job.
Home Depot Employee Interview Videos
Listen to employees describe what it is like to work for Home Depot:

Job Opportunities at The Home Depot
No Experience Required
The retailer consistently hires workers who excel in fast-paced environments and enjoy working with the public. Most entry-level opportunities are perfect for applicants with little to no previous experience.
Students can also apply for a spot in Home Depot's nationally ranked paid internship program, where they'll learn new skills and work on various projects that impact the company. Home Depot also has department supervisor positions for experienced workers seeking management positions and hosts virtual career day events for those who want a corporate role.
Moving Up the Ladder
Duties typically include stocking shelves, helping customers, and keeping work areas clean. Workers can earn additional responsibilities, titles, and pay over time.
Becoming a Manager
Store management roles usually require additional retail experience and education. Supervisors must have an understanding of daily operations and managing others. An extensive sales background is also necessary to qualify.
Does Home Depot Hire Felons?
Home Depot hires felons, but this can depend on several factors. For example, more serious offenses may automatically disqualify some candidates. This retailer conducts background checks after the interview, so hopefuls should be honest with hiring managers. Those with a criminal record are not eligible for jobs in management or security.
Home Depot Positions and Salary Information
Applicants should have a high school diploma or GED when applying. While previous retail experience can help, most employees get full training for the following positions:
Sales Associate
Sales associates assist customers by answering questions about merchandise.
Workers must be constantly moving and able to perform basic manual labor.
Employees should be kind, courteous, and patient at all times.
Sales associates typically work part-time and earn up to $11.00 an hour.
Cashier
Employees provide customers with fast and friendly service.
Cashiers handle transactions
Typically work part-time hours
Typically earn around $9.00 per hour.
Review the Home Depot cashier job description.
Store Manager
Store managers supervise the sales team for great customer service.
Employees coordinate work schedules, department tasks, and company policies.
Managers handle finances and stock at the store.
Most work full-time and make an average salary of $90k per year.
Read the Home Depot manager job description.
Tool Rental Technician
Associates clean, inspect, and do basic maintenance on rental tools.
Previous experience working with machines is not required but can help job applicants stand out.
Tool rental technicians can make up $14.00 hourly.
Employment Benefits
Employees at Home Depot enjoy a wide range of generous benefits in the following categories:
Health and Wellness: Includes 24/7 virtual doctor care, discounts on fitness equipment and gym memberships, and resources for elder care, backup child care, housekeepers, and pet care.
Financial Planning: Consists of a 401K retirement savings plan with company matching, as well as college planning assistance and tuition reimbursement options.
Associate Discounts: Offers employee discounts on store merchandise, food and grocery services, and electronics like computers, TVs, and Smart home systems.
Benefits for the Whole Family: Provides prenatal leave and adoption help for parents, plus college prep assistance and discounts on tutors for children.
Additional Information about Home Depot
Headquartered in Atlanta, GA, Home Depot operates as a big-box home improvement chain. It's one of the largest retailers in the world, with over 2,300 locations across the United States, Mexico, and Canada.
Jobseekers can apply for entry-level positions with the company to earn competitive wages, enjoy a generous benefits package, and learn new skills that they can use in future careers
Established in 1999, The Homer Fund is a charitable organization used to help at-risk employees. The organization provides money for shelter, food, and clothes in case of natural disasters and other unforeseen expenses. Home Depot also uses the fund for grants and scholarships. Over $100 million has been granted to over 90,000 associates.
.