Print Out HomeTown Buffet Application
Download a printable HomeTown Buffet employment form.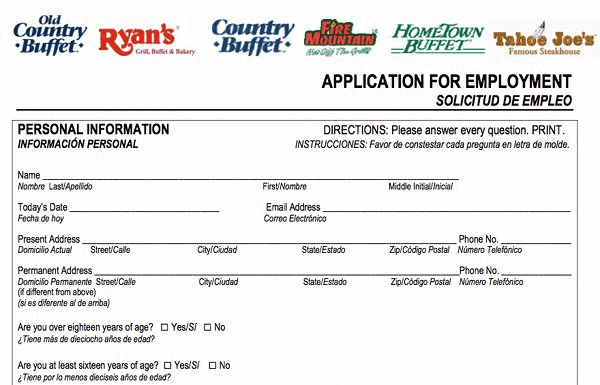 Advantages of HomeTown Buffet Print Applications
Large restaurants like HomeTown Buffet generally have high employee turnover, meaning that online systems are quickly flooded with applications. Returning completed paper forms in person is a less common choice, making each one stand out from the pack. Hand delivered forms also let job seekers meet managers, see workers in action, and get a sense of workplace atmospheres.
Completing PDF Applications for HomeTown Buffet
The company's two-page application has three major sections. Applicants should answer all questions carefully and honestly. This ensures that hiring supervisors are clear on position qualifications, work preferences, and employee expectations.
"About You"
After reminding employees about the benefits of working with HomeTown Buffet, the application asks for facts such as names, addresses, contact information, desired positions, and salary expectations. Next, answer the questions about U.S. job authorization, age, and previous work with the company by checking the "Yes" or "No" boxes.
Questions about education and work history finish this section. Put a check mark next to the highest level of education achieved from high school to BS/BA degrees. If the applicant has experienced any periods of uemployment during the last five years, space is provided to explain those situations. Last, any other names job seekers have been employed under should be listed in the blank.
"When Can You Work?"
The short scheduling section contains a grid with weekdays listed at the top. Candidates should write the earliest work arrival and latest work departure times possible in the blanks under each weekday.
"Your Work History"
The whole second page provides space to list the applicant's last three employers. Provide the requested facts, including addresses, contact details, supervisors, duties, employment dates, pay, and reasons for leaving. If the candidate is eligible to be hired again by any of these companies, they should check the "Yes" box. Finally, read the applicant statement, then sign and date the form.