Print Out IHOP Application
Download a printable IHOP employment form.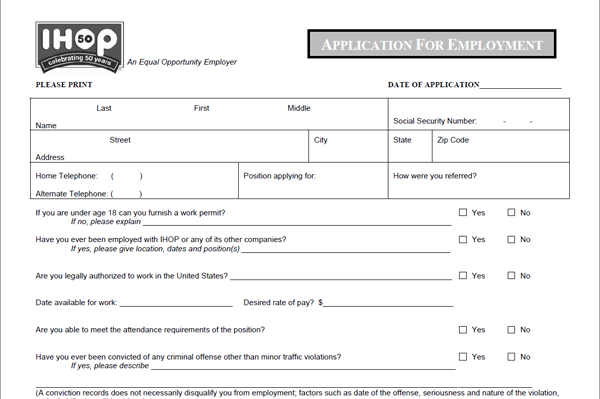 What Should I Do With This Form?
Download the PDF file above and print the application form. Use the directions on this page for help responding. Upon completion, bring the sheet to a nearby IHOP and speak to the manager. Recruits may also read about applying online here or look for jobs in their area.
IHOP Jobs
An entry-level IHOP career is a fun and fast-paced way to earn a living. Servers enjoy friendly interactions with customers, while cooks get the smell of fresh pancakes. The company seeks a diverse crew. Jobs often provide training, benefits, and advancement options, so begin an application now.
How to Fill Out the Job Application
Print the applicant's last, middle, and first names. After that, put in a Social Security and phone number. Enter home address, position to apply for, and referral info.
Those under 18 years of age who are looking for work need to furnish a permit. If unable to do so, explain. Candidates who have had prior jobs at IHOP should disclose the timespan, location, and title.
Check yes or no to denote legal status, and select a start date and desired pay rate. Applicants must commit to being reliable and describe all past criminal offenses. A conviction is not an automatic bar to employment.
Weekly Calendar
Next, go into detail about scheduling. For each day of the week, fill in available hours to work either part-time or full-time. It is important to be honest so managers can make effective hiring decisions.
Employee History
The IHOP application requires a complete job history. Start with the most recent or current employer. Be thorough, naming the companies and dates of employment.
Then, input job title, employer address, and phone number. Give names of supervisors and confirm if IHOP can contact them. Mention the daily job duties and a reason for leaving.
Schooling
High school, college, and trade school info comes next. Prospective workers will write the years completed and state if they graduated. Note all majors or fields of study, along with any degrees.
References
Job seekers must now list three professionals willing to vouch for them. Include a relationship to the candidate and the amount of time known.
Final Step
Read the closing statement. Each new hire has to submit to a blood screen for drug testing in the first 90 days of work. Sign and date the form to finish the application. Hand it to an IHOP supervisor for consideration.