Interview pages sorted alphabetically by company
Popular companies for interview advice:
Below are some of our more popular companies that users seek interview advice for. Choose a company below, then read or submit interview questions and tips.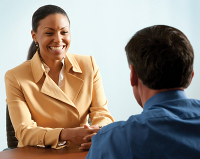 Prepare for your intervew.
Getting nervous about an upcoming interview? Generic tips not enough? Luckily, you're in the right place. Below, eager applicants will find links to a special career page for every company on our site. Each of the thousands of companies on our site has its own page with tips for companies from Aeropostale to Zumiez. Sometimes, generic interview tips and frequently asked questions just aren't enough to prepare for the sometimes intense hiring process.
Did you just interview with one of the companies on our site? Do you have insight about their job application and hiring process you've got to share with anyone who might be applying or interviewing soon? Look into the company and post a comment so that potential candidates just like you can be prepared when they apply.
Are you a boss or manager at one of these companies that wants to give advice to timid job seekers? It can really help to have a manager's perspective when it comes to the job interview process at a given employer. After all, you're the one in charge of hiring! What do you look for in a candidate? What makes an interviewee really stand out? These pages are seen by thousands of people every day; think of how many people you'll be helping.