Print Out Jason's Deli Application
Download a printable Jason's Deli employment form.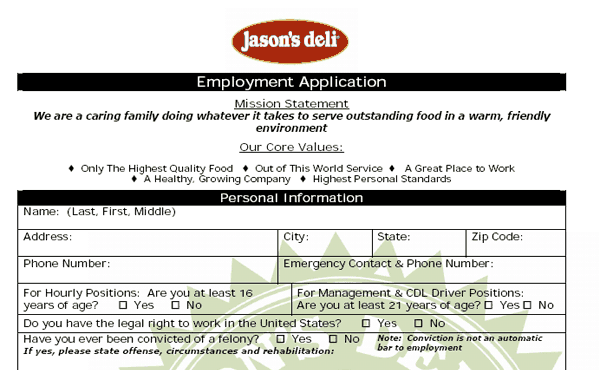 Benefits of Printing out the Jason's Deli Application
A company invested in customer satisfaction, Jason's Deli often rewards candidates who turn in paper hiring forms onsite. Individuals regularly use the time to demonstrate professional attributes related to positions desired, such as friendly attitudes and timeliness. Workers may also ask questions about the next steps in the hiring process and general expectations upon hire. Other advantages of using printable PDFs over electronic submissions include the ability to fix mistakes made on the documents without repercussions and relaxed timetables to complete the forms.
How to Fill out the Jason's Deli PDF Application
In addition to general information found on traditional hiring forms, the Jason's Deli printable application hosts several questions for candidates to complete in earnest. Topics covered range from criminal convictions and desired positions to personality traits, reasons for applying, and prompts to define customer service. Follow the instructions given in each section to complete the application accordingly. Use blue or black ink and print legibly for best results.
"Personal Information"
Below the company mission statement and a list of values the deli chain looks for in new workers sits a section dedicated to contact details. Start with last name first and then input middle names and first names followed by addresses, phone numbers, and emergency contacts with numbers. Applicants also mark whether 16 or over for hourly positions and 21 or over for managerial roles or careers requiring commercial driver's licenses. Follow-up questions delve into legal right to work in the United States, felony convictions, and previous employment with the chain. Workers must provide additional information regarding Yes answers to criminal convictions and past employment with Jason's Deli.
"What Kind of Work would you like?"
Candidates may list two separate positions of interest on the hiring forms in the following section and list desired pay rates for each in the spaces provided. The next line asks for type of employment desired between part-time or full-time status. Jason's Deli also asks if applicants possess any outside obligations potentially hindering abilities to perform on the job. A chart with spaces for each day of the week sits at the bottom of the section. Enter in hours available each day to move on in the form.
"Skills Sheet"
An intensive portion of the printable Jason's Deli application, the Skills Sheet provides checkboxes listed next to statements regarding personality traits and work ethics. Candidates must check all applicable boxes. Three final questions shore up the introspective segment: "What is your definition of customer service?", "What qualities make a company a great place to work for you?", and "Why did you choose to apply with Jason's Deli?" The questions require immediate attention to complete the document. Attach a separate sheet of paper with the answers to the questions if more space proves necessary.
"Work History"
The Work History section chronicles the three most recent positions candidates held and asks for details like company names, addresses, and phone numbers. Workers must also list specific job titles, supervisor names, dates employed, pay rates, and reasons for leaving. The hiring form provides several choices of reasons for leaving. Job hopefuls may circle or simply choose to list other on the line provided. Applicants then grant the deli permission to contact any or all previous employers by circling Yes or No at the bottom of each entry.
"Education"
Job seekers briefly mention academic backgrounds by entering in the names, locations, and diplomas or degrees received from up to three former institutions attended. Applicants must also indicate whether graduated by circling Yes or No. The section calls for details regarding high schools, colleges, and/or trade or vocational schools.
"Application Certification and Release of Employment Records"
The final section of the printable application form serves as legal release of information and states the company at-will employment policies. Details also appear regarding the receipt of the waivers and disclaimers, which requires a signature and the date at the bottom. The signature certifies the information provided remains accurate and truthful.