Print Out Jiffy Lube Application
Download a printable Jiffy Lube employment form.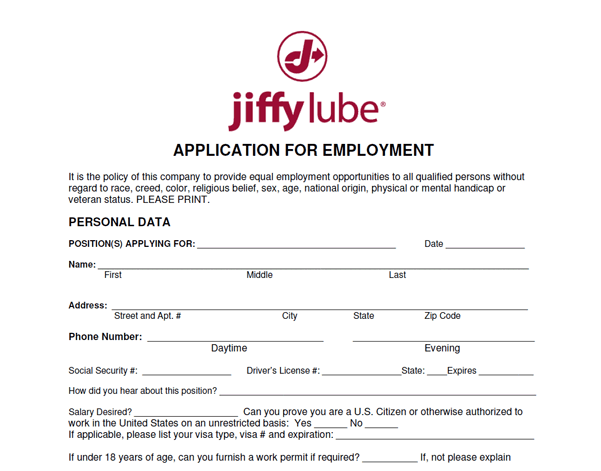 What Should I Do With This Form?
When it comes to entry-level Jiffy Lube work, customer service is just as important as a knowledge of cars. Downloading and printing this form to turn in to hiring managers in person is a great way for job hopefuls to exhibit friendliness.
Browse available jobs and read up on openings to prepare before submitting a Jiffy Lube application form. Workers can even learn how to apply online using the thorough career guides on this website.
Jiffy Lube Careers
Entry-level job seekers can find work at the service chain. Use the following step-by-step instructions to fill out Jiffy Lube applications with an eye toward highlighting relevant skills and previous work.
Personal Data
Start off by providing contact information, including phone number and street address. To make the job application as legible as possible, print clearly in blue or black ink. Specify one or more positions for which to apply. Choosing several can increase the chance of an interview.
There are also questions about employment, age, and criminal background. Answer these accurately. Job hopefuls need to fill in an expected pay rate. They must state whether full-time or part-time work fits their availability.
Education Background
In addition to listing the highest grade level completed, outline any extra training or college. The application has spaces for special skills and military experience as well. Be sure to highlight any practice working on cars.
Employment History
Next, list up to four past employers with the most recent first. For each one, candidates must identify the company. They then give their job title, starting and ending salary or hourly wages, and the name of a supervisor. When describing work duties, prospective employees ought to frame them as related to Jiffy Lube jobs.
Finishing Up
After reading over the Jiffy Lube application, sign and date it. Once applicants are happy with the final results, they should take it to a local shop. Try to schedule a visit during slow business hours and ask to speak to the hiring manager.